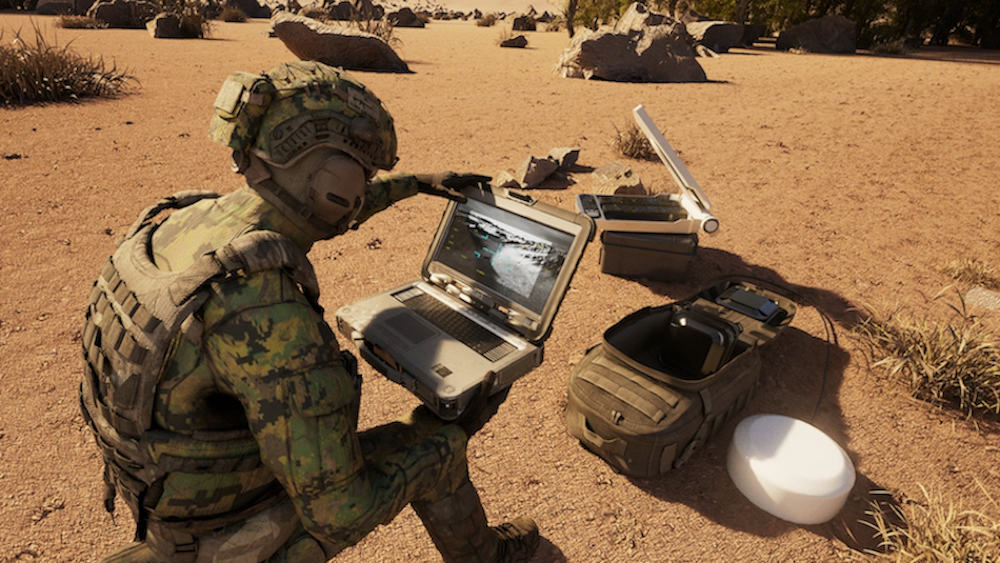 SD Government, a satellite communications provider for global governments, is working with advanced surveillance systems experts, McQ, to add the SD Video Bandwidth Agility Kit (VBAK) to its expanding portfolio of services.
Delivering near real-time high-definition video over low bandwidth in Beyond Line-Of-Sight (BLOS) applications for military and civilian government customers, the VBAK is a breakthrough technology for Intelligence, Surveillance, and Reconnaissance (ISR), and search and rescue missions. With its clarity, speed, and multiple-platform capabilities, it has the potential to transform fixed-wing, helicopter, and UAV operations with reduced weight and size limitations.
The VBAK internal compact SD WiFi Hub router and video compression module sit between the onboard camera and modem in a hardened case, collecting video data and compressing it using McQ vWatch software. The video is then transmitted through the SD Plane Simple Ku-band antenna to a coordination server, where it is distributed simultaneously to multiple end-users, including command and control centers and other aircraft. The video compression bundle is transport agnostic and compatible with Ka, Ku, and L-band Satellite Communication (SATCOM).
The system, available as a complete Roll-On/Roll-Off (RO-RO) kit, can be installed as a bundle with the SD Plane Simple Ku-band antenna connecting with the Intelsat FlexAir network and is bolstered by worldwide award-winning customer support. VBAK is compatible with the Tactical Removeable Airborne Satellite Communications (TRASC) BLOS C-130 Multi-Purpose Hatch System (MPHS) solution from SD Government and R4 Integration, Inc. Combined, these two RO/RO systems enable simple equipment sharing across the fleet.
In a VBAK proof-of-concept mission held at the Red Flag Alaska Range in March 2023, the HD video feed (1080p/H.264/30fps) from a Northrop Grumman LITENING Advanced Targeting Pod mounted on an Alaska Air National Guard SAR HC-130J, was compressed into a 300kbps stream and routed over the Inmarsat GX network using a MilliSat EX Ka-band antenna that relayed the feed to a ground station where the streaming quality was evaluated.
The aircraft departed on a high-level route at 18,000ft MSL from Eielson Air Force Base, Alaska, and an iPerf test was completed during the sortie. The signal-to-noise ratio averaged 5.3 (compared to the normal range of 3.0 to 8.0), 1.8mbps upload, and 1.5mbps download speeds were achieved, and video dissemination occurred with sub-2 second latency. Near real-time or better, this low latency shows how VBAK enables HD video streaming on bandwidth limited to provide capacity for other applications and when high bandwidth is unavailable.
Adding flexibility to the SD VBAK package, the system will operate on a variety of internet protocol networks, including cellular and IP radio modems, as well as satellite. In addition, the McQ vWatch module provides a set-up web page. Its user interface displays video and includes controls for frame rate, pixel resolution, camera pan, tilt and zoom. Frame rate and pixel resolution are adjustable for the best data rate. At the same time, SD's Data Center and Private Network offer continuous vulnerability scanning, intrusion detection, and encryption while ensuring data never touches the public network.
"The VBAK bundle is an asset that users have been demanding for some time, and we are proud to deliver it to our government customers. The ISR market and operators are balancing the demand for larger data offloads with the economics of the available BLOS solutions. The integration of the McQ vWatch software into the SD ecosystem of hardware and connectivity solutions provides operational agility and cost advantages for the operator, and we are looking forward to working with customers to implement the technology," said Hayden Olson, GM, Satcom Direct Government. "Our collaboration with McQ on such an innovative piece of technology advances critical service communications during BLOS missions to support positive outcomes in the most challenging environments and consequently protect and save lives."
Find military video surveillance equipment manufacturers and suppliers of ISR video technology for defense applications>>