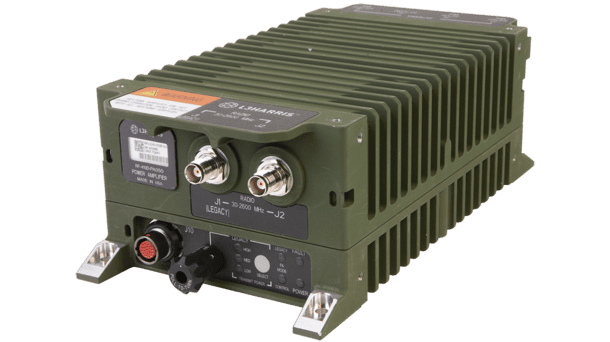 The new RF-410 NGPA from L3Harris Technologies is a next generation, software-defined power amplifier designed to maximize mission flexibility and enhance tactical agility by eliminating the need for multiple power amplifiers.
It is lightweight and provides radio-agnostic capabilities and multiband support. The radio offers seamless access to networked voice and data, over the frequency range of 30-2600 MHz. Waveform coverage includes wideband and legacy narrowband communications.
Unlike most existing solutions, the RF-410 has a software-defined architecture for fast upgrades to emerging and future waveforms. The RF-410 is designed to work with any L3Harris tactical radio and supports a variety of serial interfaces and modes. It supports both a RF Sensing input with limited manual interaction and is capable of supporting a radio control mode which requires no manual interaction and enables remote storage.
Engineered to meet changing needs of missions on the move, the NGPA supports vehicular or fixed-mount radio systems without the need for a shock mount. It provides flexibility supporting all fielded Falcon III™ and Falcon IV™ radios.
"We have delivered more than 2,500 units to both domestic and international customers. The RF-410 rounds out our Falcon IV™ eco system and is a great addition to the portfolio, providing our customers with additional capability for years to come," said Bryant Henson, President, Tactical Communications, L3Harris.