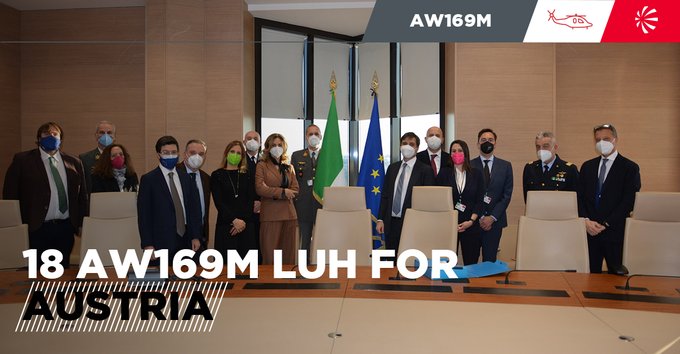 Leonardo and the Directorate for Air Armaments and Airworthiness of the Italian Secretariat General of Defense/National Armaments Directorate have signed the Acquisition Contract for the supply of AW169M Light Utility Helicopters (LUH) to the Austrian Ministry of Defense. 
The contract, valued at €346 million, was signed in the framework of the Italy-Austria Government-to-Government (G2G) Agreement aimed at reinforcing the bilateral collaboration between the two countries and establishing a strategic partnership in the rotorcraft sector, with Austria looking at Italy and the AW169M LUH program for the replacement of its ageing fleet of Alouette III aircraft, which have been in service since the 1960s.
The program envisages the delivery of 18 helicopters from Leonardo's Vergiate final assembly plant (Northern Italy) – six AW169 in the 'B' variant, 12 in the 'MA' advanced multirole variant with integrated mission equipment and weapon systems – plus a comprehensive and customized support and training package. The contract also includes options for a further 18 helicopters.
The helicopters will support Austrian defense requirements and the national community in missions such as troop transport, combat operations, disaster relief and emergency response, fire-fighting, mountain rescue and medical evacuation.
The first AW169M LUH is expected to be delivered before the end of 2022 and all helicopter deliveries are expected to be completed by 2026.
Austrian crews will leverage initial training delivered with the support of the Italian Army and its expertise as an AW169M LUH operator, and will also benefit from the supply of dedicated training and simulation devices.
"We're happy with this result which brings to a new phase of collaboration on procurement," said Italian Minister of Defense, Lorenzo Guerini. "It demonstrates the quality of Italian technology and products through international recognition. We really believe G2G is a highly effective industrial policy tool and a smart formula to support exports."
Alessandro Profumo, CEO of Leonardo, said, "We welcome the completion of the contractual phase of the G2G initiative between Italy and Austria with this latest step, which allows us to provide our contribution to supply the most technologically advanced and cost-effective solution to meet the stringent requirement set by the collaboration between the two governments. We look forward to start being an active part in the delivery of this important program."
Gian Piero Cutillo, Managing Director of Leonardo Helicopters, added: "This contract is further testament to the superior performance, unmatched latest generation capabilities and the complete support and training solutions of the AW169M to perform true multirole operations, meeting the most demanding needs of operators and for their personnel's effectiveness and safety. The type will ensure a significant leap forward for national defense and emergency response in Austria."