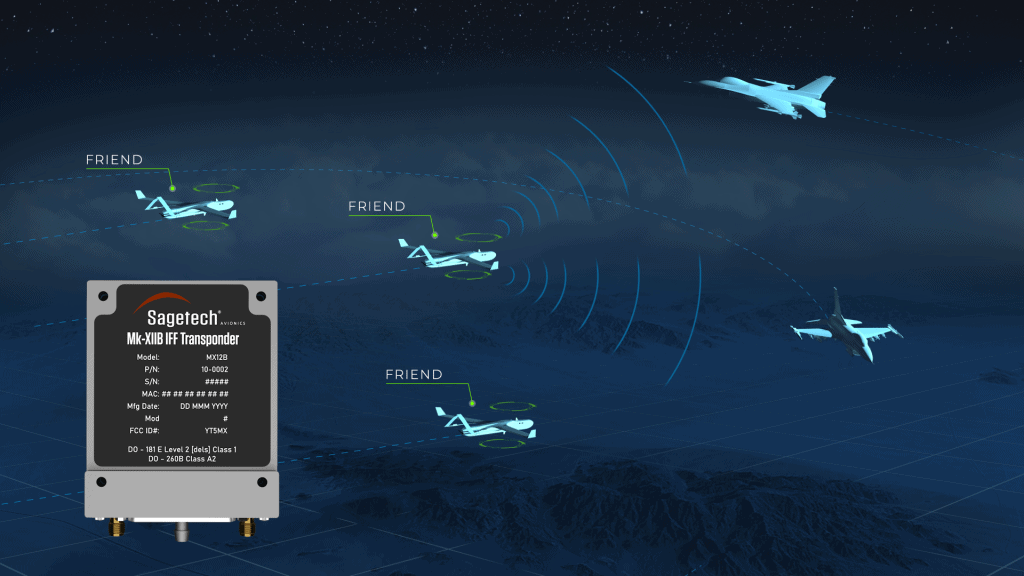 Sagetech Avionics has been issued 17-1000 Mark XIIB Certification by the Department of Defense (DoD) AIMS Program Office for their MX12B micro Mode 5 Identify Friend or Foe (IFF) transponder. This newly certified transponder enables NATO and allied militaries to deploy Mode 5 IFF capability on small drones, protecting the warfighter against unmanned threats from enemy forces, but in a form factor that saves at least 5 pounds for manned aircraft and drones.
"Around the world, enemy military drones are proliferating, and it is vital to distinguish between friendly or hostile drones. Mode 5 IFF provides the solution to this issue, but until now, manned aircraft transponders were too large for use on anything but the largest UAS," explained Tom Furey, CEO of Sagetech Avionics. "The MX12B combines Mode 5 IFF functionality with ADS-B situational awareness in a tiny SWaP unit that is fast and easy to integrate. Sagetech has served the military with certified products that have flown millions of mission hours, so customers can feel comfortable they're receiving bullet-proof functionality built on a heritage of military program performance."
Over the past year, Sagetech has successfully performed live demonstrations of the MX12B interoperating with multiple crypto computers at the U.S. Navy IMPAX 2020 event, for the U.S Army, and for major OEM military UAS customers.
Dawn Zoldi (Colonel, USAF Retired), CEO of P3 Tech Consulting, internationally recognized drone law expert, and a 25-year Air Force veteran states, "I've been in the ops center, standing side-by-side with a commander who has to make split-second life-or-death decisions on the battlefield. The ability to make the call on hostile intent under the Rules of Engagement in those moments is critical. Sagetech's MX12B micro transponder will go a long way in helping military leaders and troops make the right decisions when it matters the most. This tech will not just enable our forces to prevail in complex multi-domain operations, it will save 'blue' lives. Now U.S. soldiers, sailors, airmen, marines, and our coalition partners will be able to more readily determine if an inbound drone is friend or foe and take whatever action is needed under the circumstances. This is a game-changer."
Additional resources for the MX12B transponder are posted on Sagetech's website, including product overview and datasheet, explanatory video, an FAQ, and whitepaper: "Implementing Mode 5 IFF Transponders on UAS – What to Know."