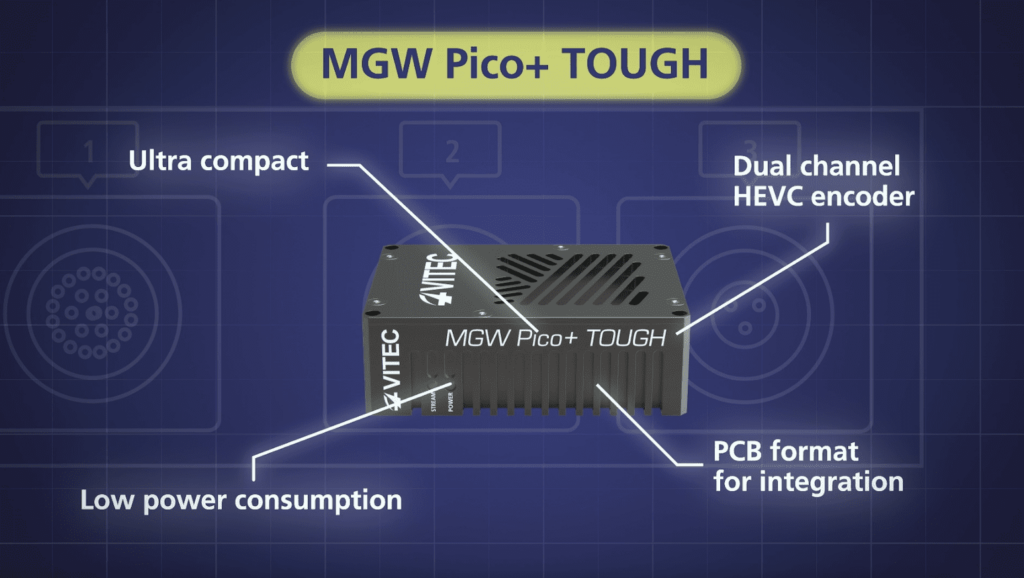 VITEC a proven key player within the Intelligence, Surveillance, Reconnaissance and Situational Awareness arena, has showcased its range of Full Motion Video (FMV) technologies at DSEI 2021.
Designed to stand up to the rigours and mission critical nature of military and government operations, VITEC's product line includes the new military-grade MGW Pico+ TOUGH, a robust and compact credit card sized encoder, providing H.264 HD/SD as well as the latest H.265/HEVC compression for intelligence, surveillance and reconnaissance (ISR) applications.
"For ISR missions, drones or unmanned aircraft are widely used to provide live tactical video to command centres. In such applications where network bandwidth constraints are commonplace, ensuring best video quality at low bitrate is key, as well as providing optimized Size, Weight and Power (SWaP) equipment," says Richard Bernard, Senior Product Manager, VITEC.
"With MGW Pico+ TOUGH, our second-generation pocket size encoder, VITEC delivers a SWaP optimized, ruggedized portable appliance featuring low bitrate HEVC encoding perfectly suited to military applications"
MGW Diamond TOUGH
Additionally, on show will be VITEC's MGW Diamond TOUGH, a fanless, power-efficient quad channel HEVC and H.264 HD/SD encoder in a rugged enclosure suited to delivering any type of ISR or Situational Awareness (SA) video generated by ground vehicles, airborne platforms and marine vessels in extreme environments.
The easy-to-integrate encoder provides exceptional contrast and brightness in any conditions thanks to its HDR support (High Dynamic Range) and delivers advanced HEVC compression allowing users to stream HD/SD video (up to 1080p60) with up to 50% bandwidth savings compared to current H.264 standards.
Users can carry out real-time image cropping and video scaling, Forward Error Correction (FEC) streaming and JITC compliant output streams.
FITIS
A further addition to the VITEC stand at DSEI will be FITIS, a rapidly-deployed, end-to-end FMV solution for processing, archiving, indexing, managing and disseminating tactical ISR video and metadata content. It enables government and military entities to quickly process and exploit live and recorded video assets to create actionable, real-time intelligence.
"In our domain, one of the challenges is to deliver video streams from the field. Bandwidth constraint is key in the scenario, where Sat link is very important due to geographic constraints. The more data you send, the more you expose yourself to packet loss, data corruption, and dramatically increased operating costs. Our solutions allow users to compress the video signal at a very high level without degrading the video quality for the operators." Commented Mark Rushton, Business Development Director at VITEC.
DSEI visitors will be able to see VITEC's encoder and decoder pairs, capable of streaming from any video source (HD / SD, Analog / Digital) including KLV Metadata (STANAG4609) at stand H6-162, DSEI London, 14-17 September 2021.