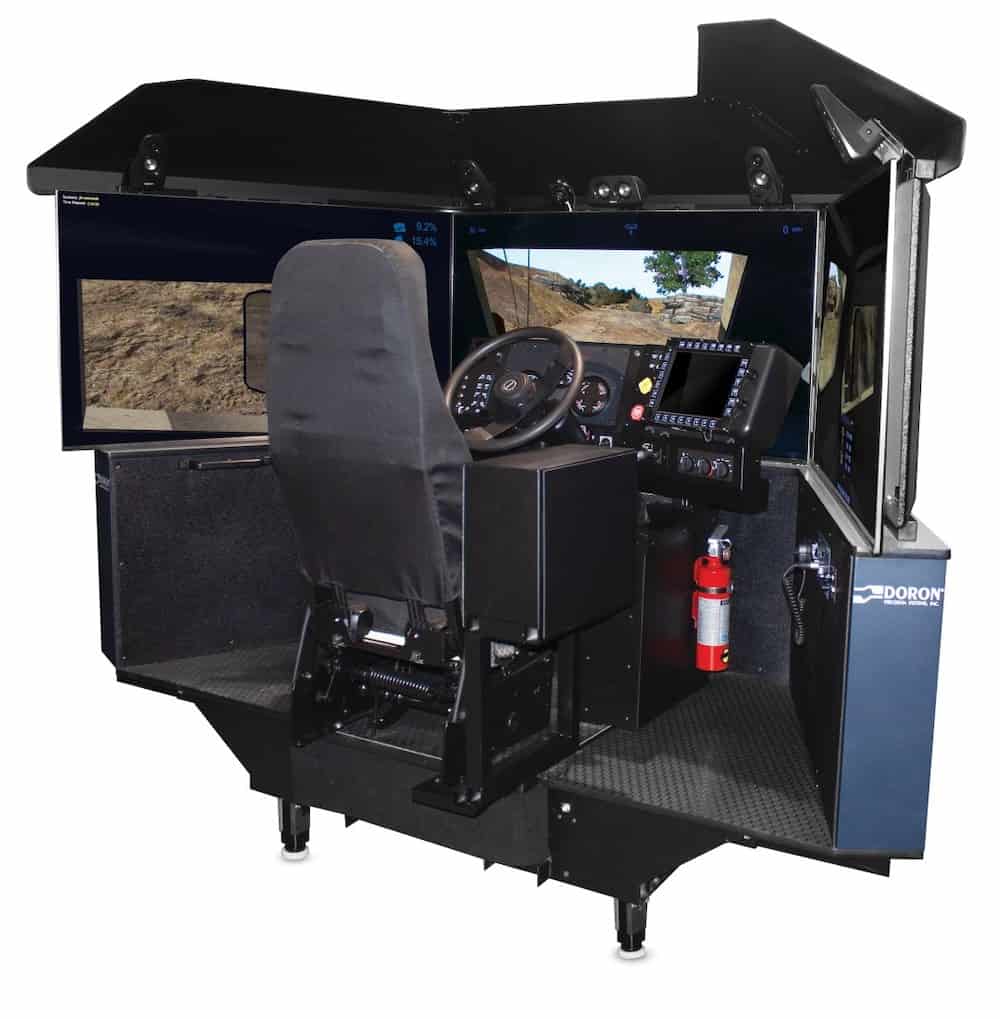 Doron Precision Systems, Inc., in partnership with Oshkosh Defense, has delivered seven new Joint Light Tactical Vehicle (JLTV) driving simulators to two U.S. Army installations under contract with the U.S. Army Reserve.
First contracted to supply truck driving simulators to the U.S. Army Reserve in 2017, Doron delivered four 550JLTVplus simulators to Fort Hunter Liggett, California, and three to Fort McCoy, Wisconsin, this year.
The new simulator, the 550JLTVplus, is a variant of the OTS 550plus series, which is widely used by the U.S. military, technical colleges, and the truck driver industry. The newest design includes original unique JLTV instrumentation and controls to provide trainees with transferable skills. It offers a comprehensive virtual training environment with several challenging terrain features such as rough trails, steep inclines, side hills, moguls, and a river to cross, and features advanced dynamic terrain effects including driving through mud, sand, and water.
"With this delivery, Doron continues to show that the 550JLTVplus driving simulation system is a successful and powerful driver training tool for today's military," said Michael Stricek, Senior Vice President of Doron Precision Systems.
"We've perfected production so that we are able to contract, develop, and deliver fully operational simulators that provide true-to-life training for military personnel in record time."
Last year, Doron teamed with the JLTV's Original Equipment Manufacturer (OEM), Oshkosh Defense, to become the only company to produce a Commercial-Off-The-Shelf (COTS) JLTV driving simulator with the OEM.
Doron used internal research and development dollars to design the simulator to offer a cost-effective and easily accessible solution. Working with Oshkosh, the JLTV simulator benefits from the knowledge and experience of the vehicle's OEM. Additionally, Oshkosh is supplying key JLTV parts to ensure that those trained on the simulator use the same JLTV components for training as they would on the real vehicle.
"We are excited for our partnership with Oshkosh Defense. We have 48 years of successful development and deployment of land vehicle simulation systems, and our relationship with Oshkosh Defense helped us create the most realistic JLTV driving simulator, while also changing the way military customers buy vehicle simulators," added Stricek.
"With the foundation of our successful OTS 550plus driving simulation system, the 550JLTVplus is produced quickly and with a significant cost-saving to customers."
With this latest delivery, Doron has provided 46 driving simulators to U.S. Army Reserve operations around the country to date.