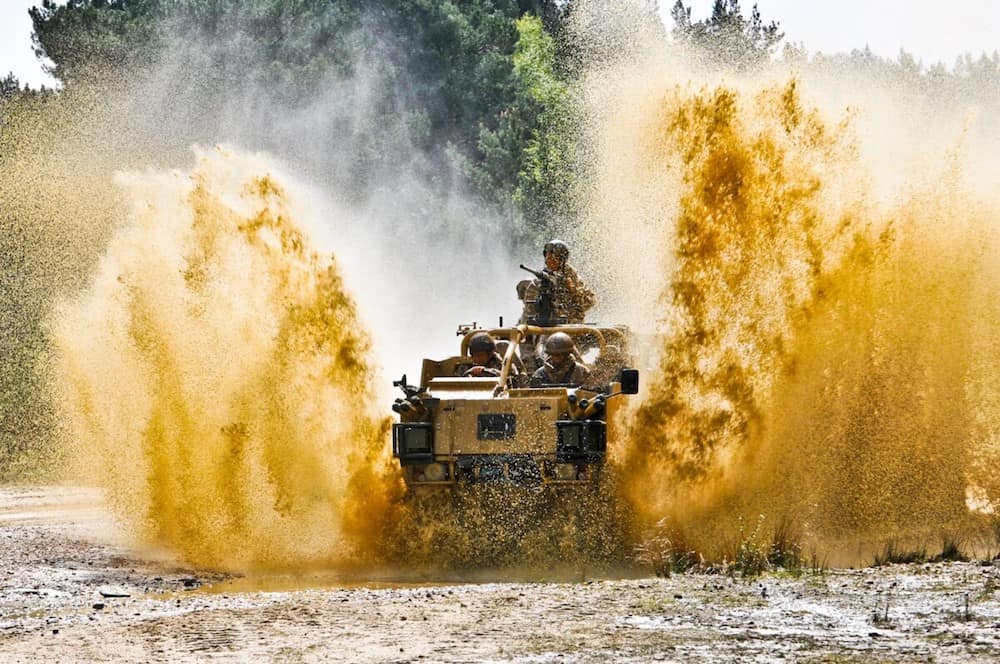 Jankel will supply 70 High Mobility Transporter (HMT) vehicle blast and seating protection systems to Supacat as part of a new contract award.
This new order has been placed to enable the rapid production of 70 new Jackal vehicles for the UK Ministry of Defence, a contract that was announced by Supacat and its production partner Babcock in February 2023. In receipt of this order, Jankel will commence production ramp up immediately.
The protection systems selected and ordered by Supacat include blast protected integrated crew cabs, made using Jankel's integrated armoring know-how and technologies, and Jankel's BLASTech mitigating crew seating systems (x4 seats per vehicle).
The integrated blast products will help protect the crew from under vehicle Improvised Explosive Device (IED) threats whilst delivering all the necessary usability for the operators.
Similar in design to what is fitted to the UK's existing Jackal and Coyote in-service HMT vehicle fleet, the latest configurations selected by Supacat will be more closely aligned to the protection systems fitted to Supacat's overseas customers in Australia and Norway.
Having taken onboard operational feedback from many years of high intensity use in Afghanistan and subsequently, on peace support operations in Mali, Jankel has refined the designs since the UK's Jackal 2A configurations were delivered, with the aim of further enhancing crew protection, comfort, functionality and safety.
Prior to receiving this most recent order, Jankel has remained a long-standing key supplier to Supacat and Babcock; having worked closely together for over 15 years to design, develop, test, deliver and support around 1,000 protected HMT vehicles to a range of global customers including Norway, Australia and UK. In the UK, over 600 vehicles were procured as a series of Urgent Operational Requirements (UORs) for Afghanistan, and post-conflict, many of these were then brought into the UK's core fleet.
Jankel is highlighting this order as another example of a key global defense vehicle OEM turning to Jankel for specific vehicle protection system support. Design, development, integration and testing is embedded into the Jankel processes, as is the important through life support that follows on from production. Jankel is able to work with an unlimited range of base vehicles, and the company's experience across multiple global programs has given it the knowledge to deliver the very best protection.
Nick Ames, CEO at SC Group, of which Supacat is a part of, said: "We are delighted to extend our longstanding relationship with Jankel with this important order. Jankel have supported our UK and export programs over many years with world class armor and protection systems for our world class vehicle."
Andrew Jankel, Chairman at Jankel, said: "The receipt of this order is fantastic news for Jankel and for the wider UK defense industry. As a UK based supplier on this program, we're fully aligned with the Land Industrial Strategy delivering on-shore capability into yet another major UK MoD vehicle program. I'm really pleased to be further extending what's been a long standing and successful partnership between Supacat and Jankel. This order demonstrates UK industry SMEs working in collaboration, something we are all striving for. This bodes well for future UK defense capability as we look ahead to future UK requirements that could also be best delivered on-shore and in partnerships. I wish Nick Ames and the rest of the team at Supacat every success in delivering this exciting and important project for the UK MoD."