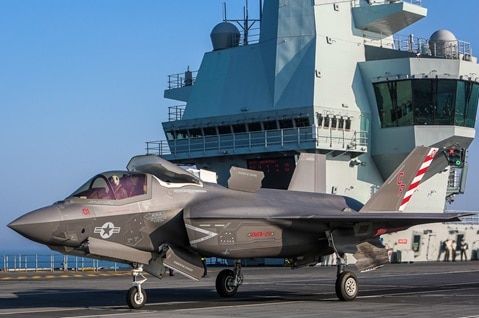 The United States has committed air and naval power, plus sailors and marines to the UK's premier military deployment of 2021.
U.S. Marine Corps F-35 Lightning jets, identical to those flown and maintained by the Royal Navy and Royal Air Force, will join HMS Queen Elizabeth on her maiden deployment.
Also joining the carrier when she leaves Portsmouth later this year is the Arleigh Burke-class destroyer – USS The Sullivans, as both a shield (defence against air and submarine attack) and spear (among other firepower, Tomahawk cruise missiles).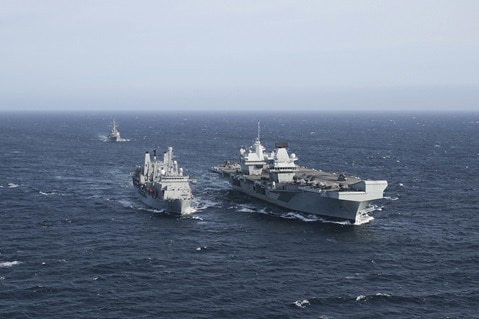 She will be one vessel in the ring of steel around the 65,000-tonne Royal Navy flagship; the full composition of Carrier Strike Group 21 will be announced before the force sets sail.
Defence Secretary Ben Wallace and U.S. Acting Secretary of Defense Christopher C. Miller put their signatures to a UK-U.S. Joint Declaration for the Carrier Strike Group 2021 deployment, committing the U.S. Navy to taking part in the deployment which is due to take the carrier group to the Asia-Pacific region.
"This joint declaration paves the way for the U.S. Navy and Marine Corps to be joining the HMS Queen Elizabeth Carrier Strike Group this year for the inaugural Carrier Strike 21 deployment," Mr Wallace said.
"I am delighted that the UK now possesses a 21st-Century carrier strike capability, which has been greatly assisted by the unswerving support and cooperation of the United States at all levels over the past decade.
"This deployment embodies the strength of our bilateral ties and reflects the depth and breadth of this vital defence and security partnership," added Wallace.
As the U.S. Marine Corps and the UK operate the identical 'B' variant of the F-35, short take-off/vertical landing, it means both nations' jets can operate seamlessly off their ally's flight decks – as Marine Fighter Attack Squadron 211 (VMFA-211) did aboard Queen Elizabeth off Scotland last autumn.