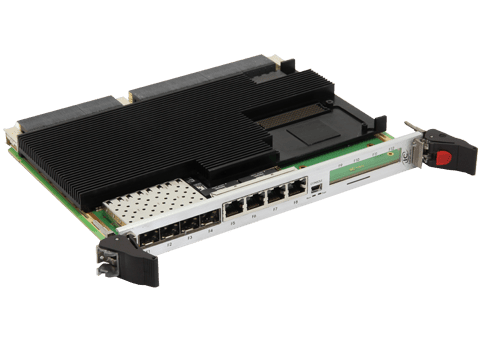 French manufacturer of COTS boards and systems solutions, Interface Concept, has introduced the ComEth4510e, a new high-speed 6U OpenVPX control and data plane 40 Gigabit Ethernet switch for compute-intensive applications.
The control and data planes are based on two independent Marvell Prestera DX switching matrices, providing 10/40 Gigabit Ethernet interfaces and a high port density (up to 98 ports) together with high-speed switching capability (up to 720Gb/s) that significantly increase networking performances, required in defense and industrial application systems.
The ComEth4510e switching is controlled by a separate management processor which runs Interface Concept's "Switchware" switch management stack providing IPV6 support, RIPng and OSPF v3. Combined with an Interface Concept VPN mezzanine board and VPN ware, the ComEth4510e turns out to be a high-performance secure gateway, protecting dedicated port via VLAN, VPN and IPSEC implementation.
"The ComEth4510e is a perfect fit, as it plays the role of the main communication switch in a 6U VPX system and can be easily connected to our other FPGA boards or SBC, to build a fully HPEC centralized system", said Franck Lefèvre, Interface Concept's Sales director.
Not only is the ComEth4510e backward compatible with the former ComEth4510a product, but it adds 40 gigabit Ethernet capability. Among others, the ComEth4510e switch features flexible L2/L3 forwarding, classification, policy engine, IEEE 1588 PTP.
The ComEth4510e is available in standard, extended, rugged and conduction-cooled grades.