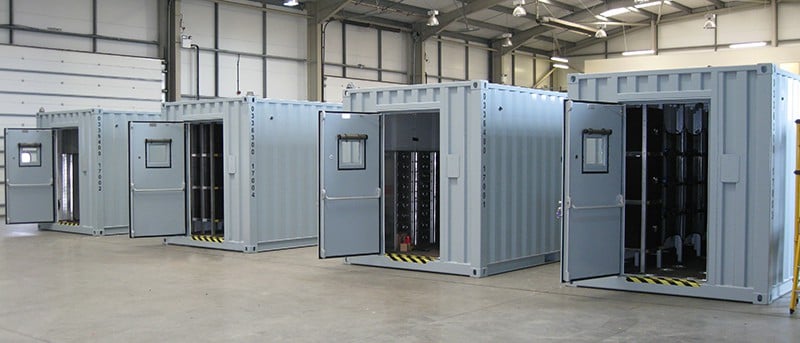 G3 Systems has recently completed a successful 5-year programme for enhancing the Royal Navy's Forward Support Unit (FSU).
The FSU's Containerised Engineering Support Facility (CESF) systems are designed to offer deployable, modular container systems that provide storage and engineering facilities to conduct Level 2 maintenance supporting the availability of the Royal Navy's Mine CounterMeasures Vessel (MCMV) fleet.
The role of the MCMV fleet is to search the world's seabeds for mines and lost explosives which are then destroyed by the ship's clearance diving teams or its SeaFox Mine Disposal System. The vessels' sonars are capable of detecting and classifying an object the size of a football at depths of up to 1,000 meters.
Deployable containerised engineering support facilities
While operating in UK and foreign waters, the current UK fleet, consisting of six Hunt class MCMV and five Sandown class Mine Hunter vessels, is supported by two CESF systems designated CESF 01 and CESF 02.
Each system is comprised of a set of containerised workshops, offices and stores which can be independently powered by a single Power Generation Module (PGM).
Each module is designed so that it can be rapidly deployed by either land, sea or air and must be fully certified under the Convention for Safe Containers (CSC) and for flight by the MOD's Joint Air Delivery Test and Evaluation Unit (JADTEU).
The FSU Containerised Engineering Support Facility consist of up to 20 specialized containers; including stores, workshops, offices, combination units and power generation, with units including communications, ablutions, electrical maintenance, shipwrights workshops, small arms management, a light machine shop, refrigeration and a lifting and slinging store. The units also contain first aid and safety equipment including a first aid kit, eyewash and fire extinguishers.
Cost savings, life extension and regulatory compliance
The objective of the G3 Systems programme was to extend the life of the CESF systems, ensuring full legislative and regulatory compliance and enhancing the safety of the facility. Through the improvements and standardization of CESF equipment and components, G3 Systems were able to reduce maintenance costs and improve management of the support logistics, enabling further savings to be made.
Nick Broom, G3 Systems' Operations Director, commented "We have enjoyed a close working relationship with the RN FSU over the past 5 years and are proud of the CESF systems we have delivered. The CESF systems provide a modular, deployable capability that can be adapted to a broad range of operational requirements and we look forward to working with the RN to develop their future capability through programmes such as NavyPODS."