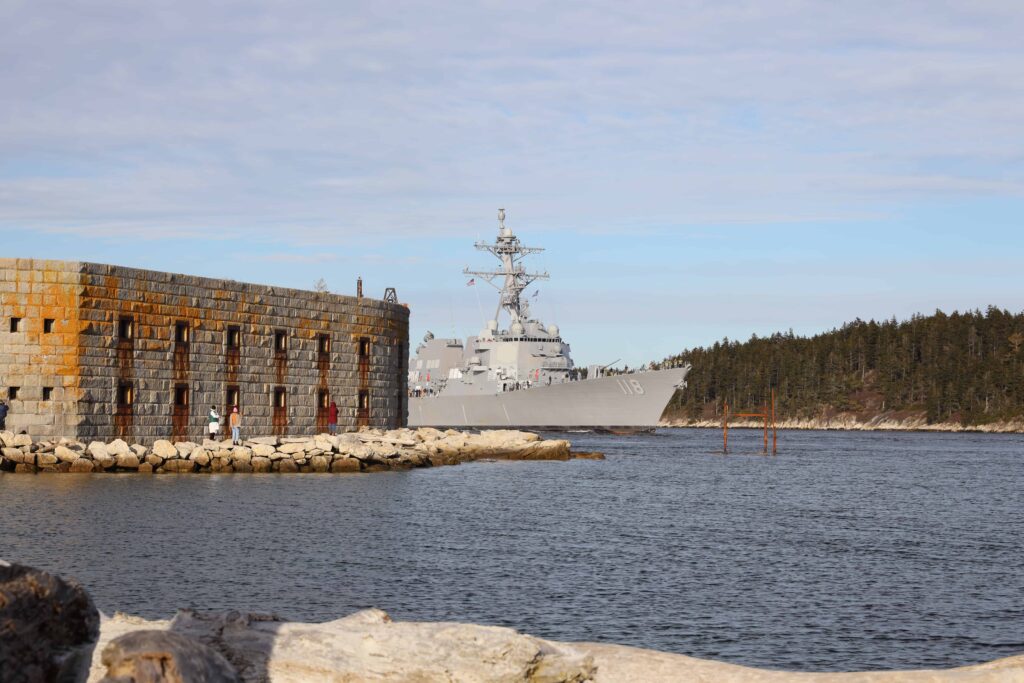 General Dynamics Bath Iron Works (BIW) hit an important milestone as sea trials for the future USS Daniel Inouye (DDG 118) got underway. This achievement is even more rewarding as it comes during a year of significant challenge for the shipyard and the entire country.
The DDG 118, which will be an Arleigh Burke-class destroyer, successfully completed the sea trials, also known as Builder's Trials, after spending four days at sea off the coast of Bath, Maine. Builder's trials consist of a series of in-port and at-sea demonstrations that allow the shipbuilder, BIW, and the Navy to assess the ship's systems and its readiness for delivery. 
The USS Daniel Inouye is powered by four General Electric LM2500-30 gas turbines. She can reach a top speed of 30 knots (56 km/h; 35 mph) with a maximum cruising range of 4,400 nautical miles (8,100 km) at 20 knots (37 km/h; 23 mph).
As a Flight IIA destroyer, the ship is equipped with an Aegis Baseline 9 Combat System, which includes Integrated Air and Missile Defense capability and enhanced Ballistic Missile Defense capabilities. This system delivers quick reaction time, high firepower, and increased electronic countermeasures capability against a plethora of threats.
DDG 118 is the first BIW ship to head down the Kennebec River in two years. It represents the future as a shipyard, not just because this ship is an important and much-needed asset for the U.S. Navy fleet, but also because it demonstrates the commitment by the workforce and company management to increase the shipbuilding rate to two ships per year, a crucial part of the Three Year Schedule Recovery Plan that is well underway.
Most important of all, the future USS Daniel Inouye represents the work of veteran shipbuilders, with decades of experience constructing the best ships in the world, and the next generation of shipbuilders – the future of the industry in Maine – who have joined the company in the past two years and are on their way to carrying on the 'Bath Built is Best Built' tradition.
An extensive plan and set of protocols were followed that mirrored the robust safety measures taken in the shipyard every day to keep employees safe against transmission of COVID-19 while on board.