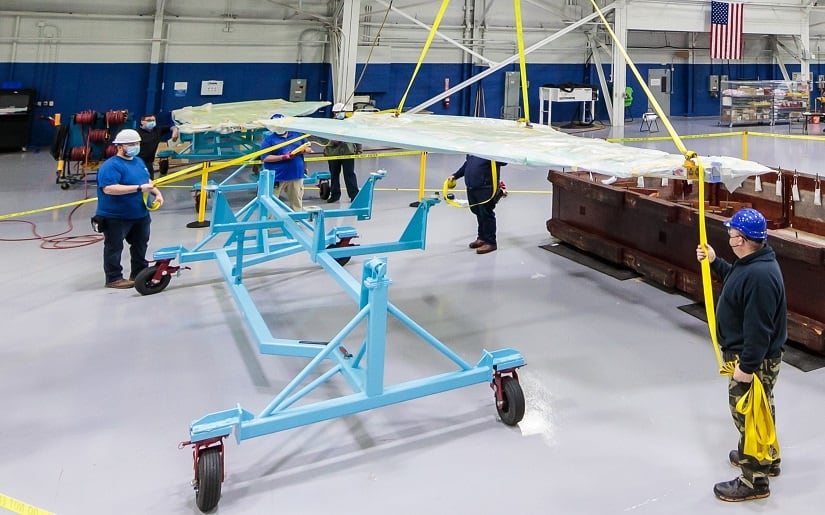 Following the reopening of the F-16 wing assembly line at Israel Aerospace Industries (IAI), the company has delivered the first F-16 wing and vertical fin to Lockheed Martin.
As a result of increased worldwide demand for the F-16 Block 70/72 aircraft, IAI reopened the assembly lines that had been established in the 1980s to continue production of the F-16 aerostructures assembled at IAI.
The F-16 wings and vertical fins will be shipped to the F-16 production and final assembly line in Greenville, South Carolina, USA.
Prior to reopening the F-16 assembly lines, IAI invested in modernizing infrastructure, improving the work environment, and introducing new tools to produce fully compliant F-16 aerostructures. The company also successfully reestablished the supply chain of hardware suppliers to support the assembly lines, checked and verified tooling, carried out necessary first article inspections, and conducted training programs for the F-16 team.
In addition to wings and vertical fins, IAI also produces the F-16 Conformal Fuel Tanks.
"The first delivery of the F-16 wing and vertical fins represents a continuation of IAI's decades-long cooperation with Lockheed Martin to manufacture aerostructures for customers worldwide," said Boaz Levy, IAI President & CEO. "Built on the newly refurbished and technologically advanced assembly line, the F-16 wing and vertical fins represent over 40 years of cooperation between IAI and Lockheed Martin. The reactivated F-16 assembly lines join IAI's aerostructures center of excellence for fighter aircraft. With decades of experience, customer satisfaction, and continued technological advancement, these first deliveries are a testament to IAI's leading role in the aviation industry."
"The F-16 is a strategic and valuable choice for many customers around the world seeking advanced, 4th generation fighter aircraft capabilities, regional and worldwide partnerships, and affordable lifecycle costs," said Joshua (Shiki) Shani, Chief Executive, Lockheed Martin Israel. "Five nations have chosen the F-16 Block 70/72 for these reasons and more. We are proud to have local Israeli production of wings for the F-16 at the IAI facilities, which already produces wings for the F-35, and we look forward to growing our partnerships and cooperations with the Israeli industries."