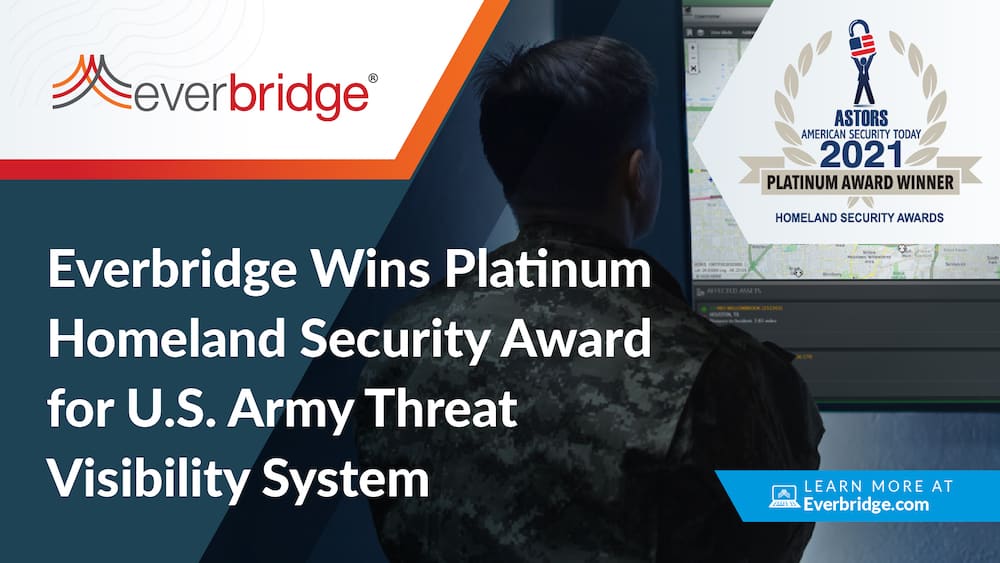 Everbridge, Inc.'s JARVISS software solution has won Best Federal Government Security Program at the 2021 Annual ASTORS U.S. Homeland Security Awards. The ASTORS honor distinguished government solutions that help keep the U.S. secure by delivering enhanced value, benefit, and intelligence to government, homeland security, enterprise, and public safety markets.
Everbridge's Joint Analytic Real-Time Virtual Information Sharing System (JARVISS) creates a premier global threat information sharing system that enables the Army to effectively identify and assess incidents and threats, in close proximity to military facilities, in near real-time.
The platform accesses thousands of open source feeds across the globe – including social media, news reports, local municipality services, commercial business, and government sources – as well as data from Everbridge's Risk Intelligence Monitoring Center (RIMC). The key to JARVISS' success comes from a common operating framework – one unified platform where senior leaders, antiterrorism officers, law enforcement personnel, and emergency managers identify relevant risks and the assets that could be affected, and act to avoid or mitigate the impact of the threat on their people and facilities.
JARVISS primarily focuses on antiterrorism and other security threats such as active shooters and natural disasters that might impact Department of Defense (DoD) operations. In preparation for the 2021 Presidential Inauguration, for example, the DoD deployed the National Guard from every state to secure Washington, D.C. from any potentially disruptive incident. The Guardsmen stayed at dozens of hotels across the city. To ensure that each hotel provided a safe environment during this Special Security Event (SSE), the Army utilized Everbridge's RIMC to collect a year's worth of threat data on crimes, shootings, and other dangerous incidents that occurred in the vicinity of the hotels, aggregated the findings in a report, and used the information to determine the safest locations for the troops. Based on the data, the Army's Office of the Provost Marshal General (OPMG) then vetted each hotel before approving the final selections.
"We are proud to be acknowledged with an ASTOR Award for Best Federal Government Security Program," said Mike Mostow, Everbridge's Vice President of Federal.
"Protecting our soldiers represents a privilege and a responsibility that we do not take lightly. As risks evolve and new hazards emerge, threat mitigation becomes much more nuanced and represents a command-level discussion. Everbridge's unrivaled expertise in risk assessment and response empowers our federal government customers to reach full organizational resilience."