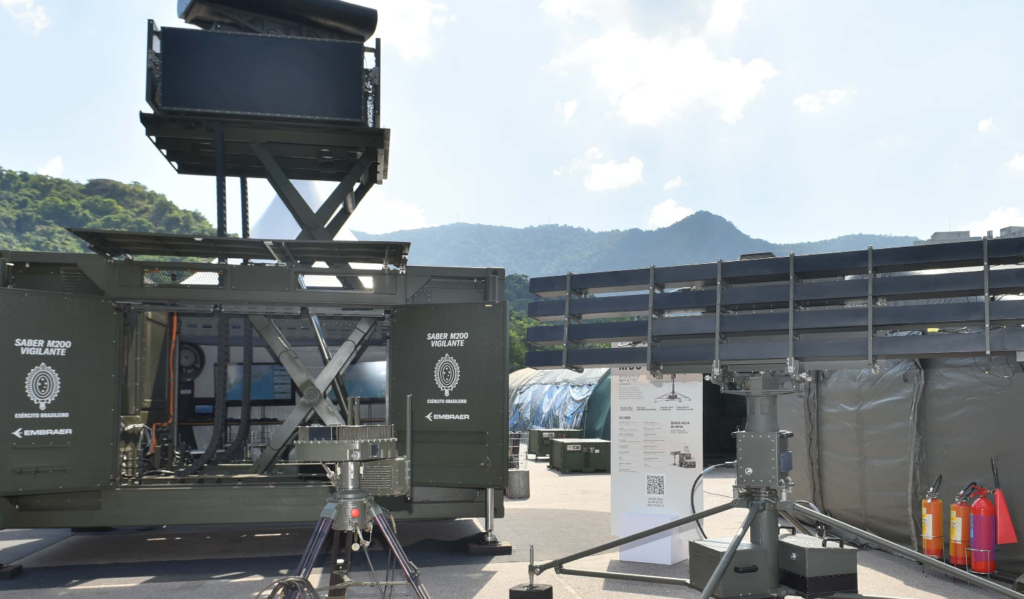 Embraer is expanding its portfolio of radars, developed over the last 15 years in partnership with the Brazilian Government, with complete local domain of its development cycle, ensuring Brazilian sovereignty in this strategic and essential sector for the country.
Embraer recently completed the development of the SABER M200 Vigilante radar, which is now in the technical and operational validation phase. Its expected to soon be in full operational use to meet the interest and need of the Brazilian Government, especially those related to Surveillance and Early Air Warning missions, as well as the readiness to meet the most varying demands of the international defense market.
Another important recent milestone is the signing of a contract with the Brazilian Army for the development of a Brazilian counter-battery radar, aiming at increasing technical capacity and expanding the domain of strategic functionalities, including potential partnerships for the international market.
During LAAD 2023, in Rio de Janeiro, Embraer demonstrated some of the main radars in its current portfolio. In addition to the latest development, the M200 Vigilante Radar, the SABER M60 Radar, and SENTIR M20 were on display at the show.
The highly versatile SABER M60 radar combines tactical capacity and reliability for low-altitude Air Defense applications. Its latest 2.0 version was recently delivered to the Brazilian Army to complement the various units widely used in the Brazilian Anti-Aircraft Defense system, as well as units already in operation in the international market.
As for the SENTIR M20 radar, it comprises of a surface surveillance sensor with a successful track record in the surveillance of the Brazilian land border as part of the Integrated Border Monitoring System (SISFRON). Currently employed in mobile, fixed, and transportable versions, the M20 radar has demonstrated excellent results in increasing operational efficiency, generating the potential to increment its use in the SISFRON Program, as well as to serve the needs of the international market.
It should also be highlighted that Embraer is the final development phase for the prototype of the M200 Multimission radar, having already surpassed the main technological challenges related to this research and development phase, which ensures readiness for the future potential employment of this radar in Medium Altitude and Medium Range Air Defense projects for the Brazilian Government.
Embraer is also said to have discussed potential cooperation opportunities with the Brazilian Navy and the Brazilian Air Force to apply the capabilities developed nationally to the specific needs of each Armed Force. In this respect, Embraer recently signed a technical cooperation agreement with the Brazilian Navy related to Research, Development, and Innovation in Radar and Jammer Systems, once both institutions have recognized competencies and projects in these areas and will collaborate on sustainable solutions to increase the operational capacity of the Brazilian Navy with a high level of Brazilian technological content.
Find manufacturers of Ground-Based Air Surveillance Radar for military and defense applications >>