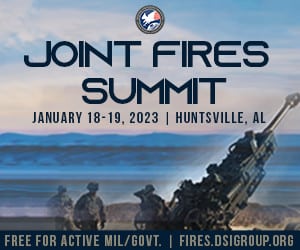 Defense Strategies Institute's second Annual Joint Fires Summit, taking place January 18-19, 2023, in Huntsville, AL., will bring together the Department of Defense (DoD), Military Services, Industry, and Academia to discuss how they are currently working toward delivering cutting-edge surface-to-surface fires systems that will significantly increase range and effects over currently fielded US and adversary systems.
The 2023 Joint Fires Summit will focus on developing and fielding cutting edge fires and strike capabilities to meet the growing challenges of strategic competition across the globe. 
Defense Strategies Institute believes the need to have reliable and lethal systems capable of penetrating enemy area denial systems is a growing priority as potential enemies continue to invest in their defense capabilities while also developing hypersonic and other standoff weapons systems. The modernization of Joint Fires capabilities and Multi-Domain Operations is considered a top priority, with a requested $24 billion investment in the FY 2023 budget.
Attendees will hear unique insight from leaders throughout DoD, Military, and Industry about the opportunities and challenges that will define Joint Fires in the next decade of multi-domain operations.
Speakers will share their perspective on efforts to enhance combat readiness, improve artillery systems for direct and indirect fires, and increase interoperability with joint partners and allies.
A panel of experts and leaders will convene to lay out a roadmap to a Joint Warfighting Concept through the adoption of a JADC2 framework as the US seeks to succeed in a near-peer environment.
2023 Early Confirmed Speakers Include:
BG Frank J. Lozano
Program Executive Officer,
PEO Missiles and Space, USA
BG Eric D. Little, USA
Commanding General,
White Sands Missile Range
COL Matthew Paul, USA
Project Manager, Mission Command,
PEO C3T, USA
Col Daniel Lehoski, USAF
Commandant,
USAF Weapons School
Morten Brandtzæg
Chief Executive Officer,
Nammo