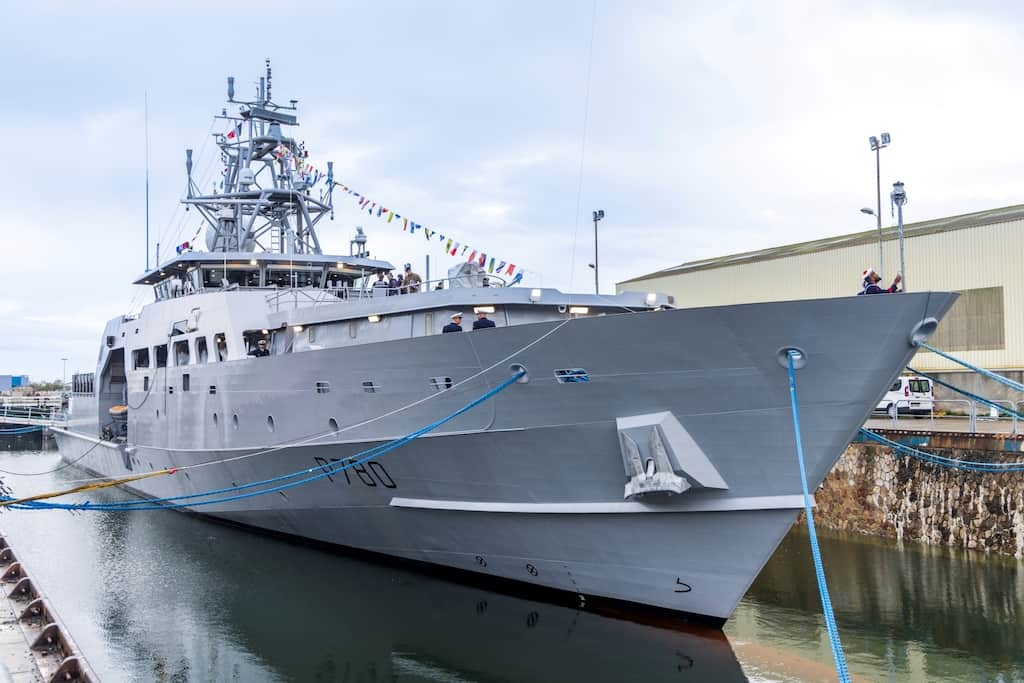 HENSOLDT Nexeya France is providing the French Navy's Offshore Patrol Vessels (OPV) with its LYNCEA® combat system. 
Six OPVs will be directly involved in defending the interests of the French State in its Exclusive Economic Zone (EEZ) overseas.
HENSOLDT Nexeya France is involved in this project as a supplier of the LYNCEA combat system, which provides a tactical situation integrating data merged from the ship's various sensors (IFF, radar, EOTS observation camera, ship inertial unit, etc.) and effectors (FCS, Canon).
To enhance the patrol vessel's mission system, the HENSOLDT group has supplied two sensors: the SHARPEYE MK11 surveillance radar from HENSOLDT UK and the IFF MSSR2000 encrypted interrogator from HENSOLDT AG.
A wireless version of the mission system has also been installed using the LYNCEA® Mobile solution. This enables the marine riflemen on board the RHIBs to access the same tactical situation as the ship's crew on a mobile tablet, and to share with them an audio/video stream of the operation in real time. A real asset for decision-making in operations.
At the end of 2022, the 'Auguste Bénébig' was delivered as the first OPV ordered by the French Defence Procurement Agency (DGA). Following this, the SOCARENAM shipyard and the French Navy held the christening ceremony for the 'Teriieroo a Teriierooiterai', the second of the six OPVs ordered by the DGA, which will be based in Papeete, the capital of French Polynesia.
Installation of the solution on board the 'Teriieroo a Teriierooiterai' was carried out by HENSOLDT Nexeya France employees in Boulogne-sur-Mer over the last few months, followed in October by trials alongside the quayside (HAT) and at sea (SAT).
"We are very proud that our LYNCEA® combat system and associated HENSOLDT equipment have been selected by SOCARENAM to support the French Navy in its mission to protect French interests overseas," said Aliette Quint, President of HENSOLDT Nexeya France. "As a member of the BITD (Defence Industrial and Technology Base), HENSOLDT Nexeya France is committed to continuing to develop innovative critical electronic solutions that provide a real operational advantage for French and European forces."