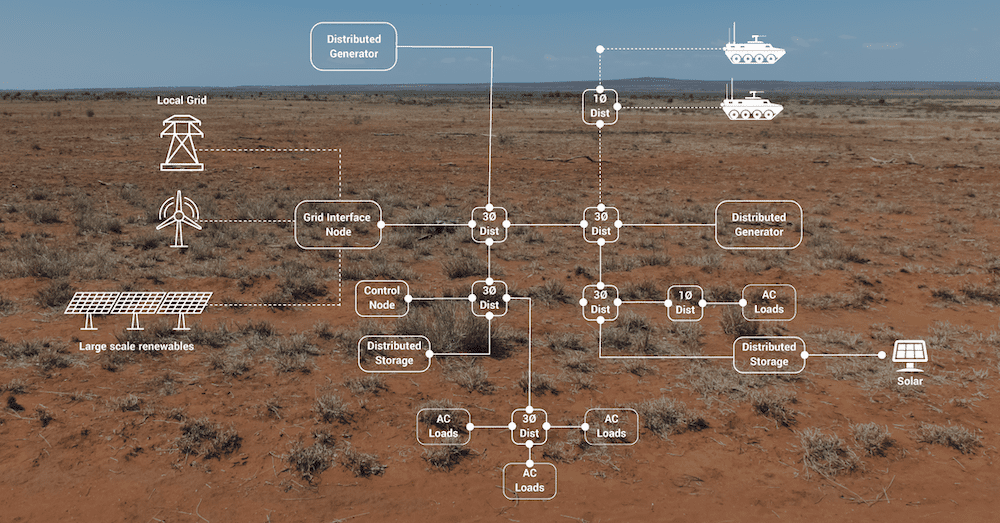 The Defense Innovation Hub has awarded QinetiQ Australia nearly $5 million over two years for the second phase of development for the Deployable Adaptive Smart Grid (DASG).
DASG will provide the energy storage systems, electrical distribution infrastructure and centralized control necessary to improve the efficiency, resilience and power quality of the Australian Defense Force's deployed three phase power systems.
DASG incorporates distributed generation and energy storage systems to remove single points of failure and automatically adapts the control algorithms to match the grid layouts of different operational scenarios.
Additional capabilities include:
Loads can be switched on and off in priority order to meet the available generating capacity
Sources can be prioritised to maximise reliability and efficiency
Energy storage can be either charged or discharged to balance the loads on the generators and to enable quiet operating periods
Configuration and control occurs without user intervention
Supported by the University of Melbourne, QinetiQ Australia will develop and test the DASG technology for deployed military camps.
The smart grid technology will be designed to power a NATO standard 250-person camp but will be scalable up to power larger deployments such as Combat Brigade HQs, Deployable Joint Force HQs, Forward Airfields and 1000 person camps.
"The QinetiQ Power and Energy team are working with Defense to deliver the electrical systems needed to reduce fuel consumption and improve reliability today and to power the future electrical battlespace," Dr Colin Cockroft said.
"QinetiQ studies have shown that it is possible to significantly reduce the amount of diesel used to generate electricity in the field while at the same time improving the reliability and quality of the electricity generated. Our Power and Energy team are working with Defence to make these improvements a reality."
The modular power system can also be used for applications outside Defense, including humanitarian and disaster relief efforts, emergency services and remote mining work camps.
Prototyping and fabrication are expected to take place at QinetiQ's Australian Engineering and Integration Facility, with development of the control algorithms taking place at University of Melbourne's Carlton campus.
QinetiQ Australia will prioritize using Australian manufacturers and suppliers throughout DASG Phase 2, to encourage the development of Australian industry.