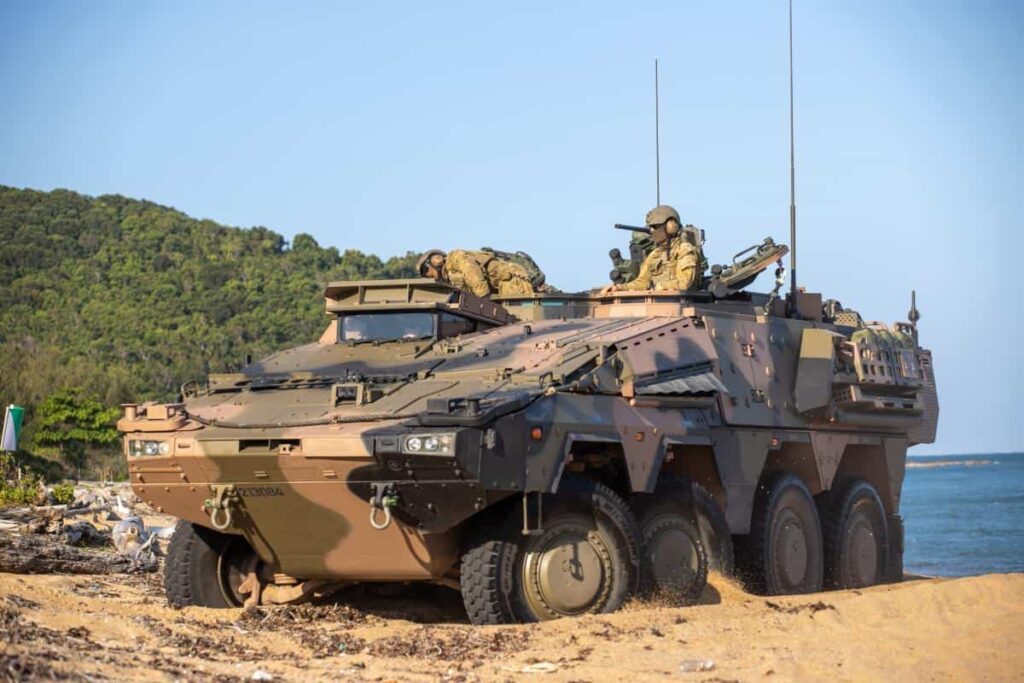 The Australian Army has conducted beach trials with its new Boxer Combat Reconnaissance Vehicle (CRV).
During Exercise Sea Wader, a well-trained vehicle crew from the 2nd/14th Light Horse Regiment (2/14LHR) deployed to Cowley Beach Training Area, joining the Amphibious Task Group to put the vehicles to the test, with the Boxer CRV out-performing expectations.
Officer Commanding 2/14LHR's A Squadron Major Ed Keating said he was excited to see the Boxer CRV perform so well on the coastline.
"The vehicle provides a real fighting capability that's not only going to be the most capable cavalry vehicle in the world, but set the conditions for further modernisation projects," he said.
"From what we've seen, I'm confident the Boxer CRV can be deployed just about anywhere in the world. The way it was able to manoeuvre on the beach was impressive."
In the trials, the crew attempted to get the vehicle bogged in loose sand, but the Boxer CRV was able to be driven out without aids every time.
"It's got a lot of power and made short work of the beach, and it wasn't even being used to its maximum capability," Major Keating said. "It's an extremely impressive and capable vehicle."
Major Keating said the Boxer CRV was far more advanced than its ASLAV predecessor, and that vehicle crews were learning how to adapt their existing knowledge.
"It's certainly not an ASLAV. It's a completely different vehicle with different capabilities, and the crews need to learn how to use the Boxer CRV to firstly achieve what they could with the ASLAV, then go beyond that," he said.
"So far, the crews are extremely impressed with the Boxer CRV multi-purpose variant, and they're quickly learning how to use it as a deployable capability. They're training enthusiastically, and they really like the vehicle."
With 2020's high-risk weather season approaching, Exercise Sea Wader prepared Army's crews for humanitarian aid and disaster-relief tasks, and provided valuable training in amphibious combat operations.
Major Keating said he was confident in the Boxer CRV's ability to deploy anywhere and for any reason, be it humanitarian and disaster relief as the high-risk weather season approaches, or combat operations as required by the government.
"It can lend assistance in most conditions, and it will be able to fight anywhere we are required to fight," he said.