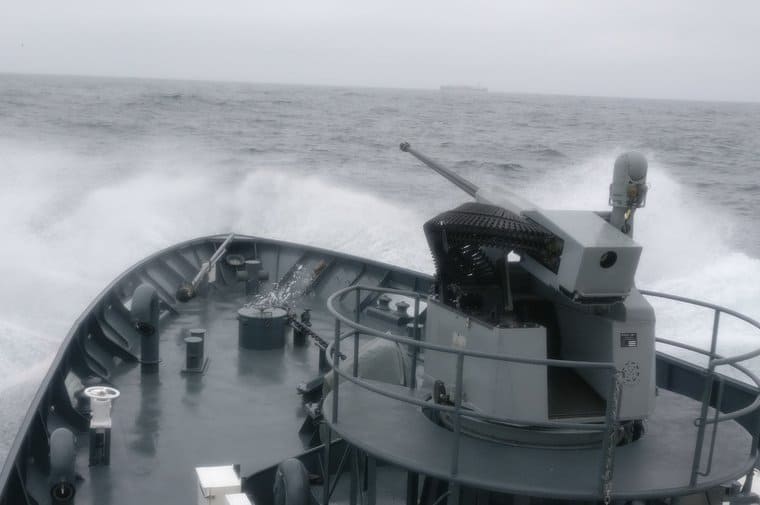 Rafael Advanced Defense Systems will supply its TYPHOON Mk30-C, counter-Unmanned Aerial Systems (UAS), Next Generation Naval Remote Weapon Station (NRWS) to an undisclosed navy in Asia as part of a new contract award. 
Worth tens of millions of dollars, the contract will be fulfilled over the course of five years, with an option for additional systems.
Equipped with the NGC Mk44S Bushmaster 30mm gun and its advanced ammunition, the TYPHOON Mk30-C offers an advanced capability for defending against airborne, marine and shore-based threats.
The TYPHOON Mk30-C fires all NATO standard ammunition with adjustable rates of fire up to 200 rounds per minute. Its magazine holds 190/380 ready rounds on mount and has a 70-degree elevation.
The system incorporates a mix of synchronized smart multi-spectral sensors, weapons and intelligent effectors that translate to very high hit accuracies using advanced AI techniques, which enable Automatic Target Recognition, Classification and Tracking (ATR), as well as unique Automatic Fire Correction (AFC) capabilities.
The TYPHOON Mk30-C incorporates an on-mount Electro-Optical Director with a state-of-the-art Fire Control System to optimize effective surveillance and engage threats in all weather conditions, day and night. Its high level of stabilization and pointing accuracy result in a high hit probability even against small and fast maneuvering targets. The system can be operated 24/7 in surveillance mode, offering multi-mission capability to the ship.
RAFAEL will install its TYPHOON Mk30-C onboard the client's vessels, integrating it onto the ships' own CMS, utilizing the system's open architecture which allows for seamless integration.
"Our naval applications integrate the groundbreaking combat-proven technologies found in RAFAEL's systems across a multitude of domains, such as AI and advanced computer vision," said Vice President Ran Tavor, Head of RAFAEL's Naval Warfare Systems Directorate. "We are thankful to the customer for selecting RAFAEL and we look forward to providing our solutions and services."
Find manufacturers and suppliers of Counter-Drone systems and technology>>