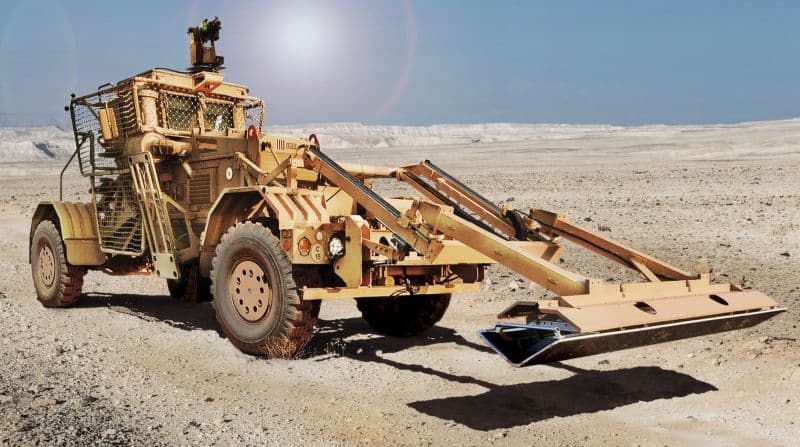 AirBoss Defense Group (ADG) has received a $35 million order for 10 Husky 2G Counter-Improvised Explosive Device (C-IED) vehicles, comprehensive operator and maintainer training as well as spare parts and sustainment supplies.
The vehicles, which will be delivered over the next 16 months, will be equipped with a full complement of detection systems and periphery subsystems including Ground Penetrating Radar (GPR), M20 Interrogation Arms, Rollover Detection Systems, thermal cameras and RPG-defeat netting.
Furthermore, ADG, through its partner, DCD Protected (DCD), will be providing three Husky 2G C-IED vehicles, peripheral detection and survivability systems to support a customer in West Africa, valued at up to $5.6 million. ADG and DCD will also be providing spare parts and sustainment supplies as well as comprehensive operator and maintainer training.
According to ADG, this contract will provide a critical, best-in-class route clearance and threat detection and interrogation capability that will aid in the ongoing war on terror and efforts to counter a growing extremist threat in the region.
"AirBoss Defense Group is growing its worldwide leadership in survivability solutions, ranging from IED detection to high-risk environment personal protective equipment," said Patrick Callahan, CEO of ADG. "The Husky 2G is a cornerstone product in our portfolio of survivability solutions and is the most survivable vehicle available on the battlefield, providing unparalleled route clearance capabilities to US allies around the world. ADG welcomes the opportunity to continue our long partnership with DCD to provide the proven and tested Husky 2G vehicle in support of global route clearance missions."
These new orders build upon previous US and foreign government procurement from ADG of Husky 2G C-IED vehicles, equipment, spare parts, and training to counter growing IED and landmine threats around the globe.
With these vehicles, ADG and DCD aim to provide a rapid response to the growing international demand for proven route clearance and survivability solutions delivered by ADG. Built with a unique V-shaped hull and modular design, the Husky 2G C-IED protects operators from blast impacts, small arms fire, and challenging terrain while supporting sensor systems for threat detection, identification, and mitigation.
The two-operator Husky 2G clearance vehicle was developed to meet the operational requirement for longer, more complex, mounted clearance missions and the employment of more sophisticated vehicle payloads.
ADG claims the 2G platform has been recognized by the US Department of Defense as a US Army Top Ten Invention that addresses evolving explosive threats while applying operationally proven survivability capabilities.