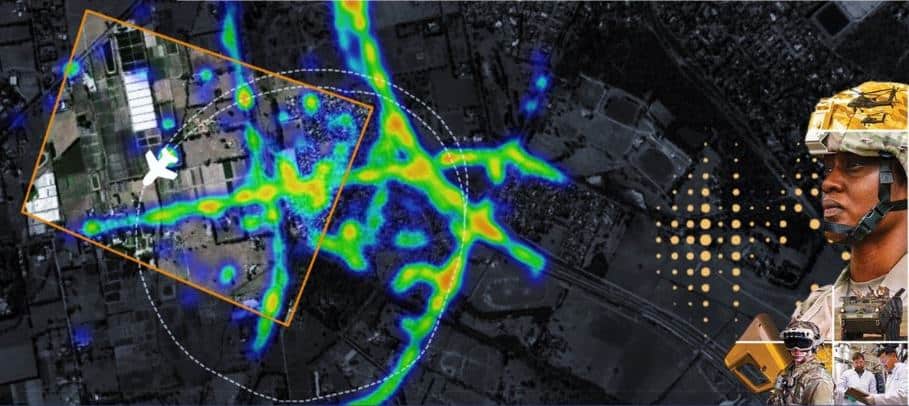 Sentient Vision Systems' AI enabled sensor solution, ViDAR (Visual Detection and Ranging), has demonstrated a range of detections at high operating altitudes of 30,000ft.
These successful flight trials done for the Australian Defence Force (ADF) across multi-domains proved the utility of AI-enabled, persistent, wide area motion imagery for long range surveillance at greater standoff distance.
The mission objectives set by the ADF focused on technology to provide effective methods to detect, locate and track small objects in complex environments.
According to Sentient, ViDAR's superior deep learning and computer vision solution provides faster processing and more accurate detections, enabling commanders to detect and see critical elements for immediate situational awareness on the battlefield.
Missions include:
Wide area reconnaissance: Sentient scanned 2000km2/hr while detecting objects of interest including people, vehicles and vessels. This is 30 times faster than a HD turret. 
Surveillance overwatch: Observe specific locations in a busy environment and report on activity.
This achievement of a modular, AI-enabled payload with 2 modes of observation that provides accurate detections in multi-domain operations is timely as the United States, United Kingdom and Australia deepen ties through the AUKUS trilateral agreement, with Pillar II focusing on the AI workstream.
Collaboration with allies provides data diversity which enhances detection and classification accuracies to help operators make better decisions in an information-overloaded environment.
The flight's data performance will be a key discussion point with the US Army, OEMs, and system integrators at AUSA for Sentient's executives.
The benefits to military operators are manifold and include:
ViDAR is platform agnostic, is interoperable with any mission systems and also comes with an intuitive GUI requiring minimal logistics and training support.
Improved versatility with scanning and overwatch sensors provide joint forces with both land and maritime capabilities.
Provide high accuracy data: detect, locate, classify and track at 30,000 feet for ISR.
Sentient is working with a variety of US partners and platforms including the VXE30 Stalker . With close to 4,500 systems deployed, Sentient's AI-enabled sensor edge solutions for wide area motion imagery is proven for detection and identification in missions worldwide.
Callum McGregor, Chief Technology Officer, explained; "The capability sets demonstrated not only met, and in many cases exceeded the mission objectives, but also importantly provided a road map for US and allied forces deployment of advanced, low signature sensor solutions with onboard processing. Clearly the modularity and interoperability of Sentient's technologies for AUKUS Pillar 2 sets the scene for a raft of integration on crewed and uncrewed airborne platforms."
Find suppliers and manufacturers of Video Surveillance and Monitoring technologies >>