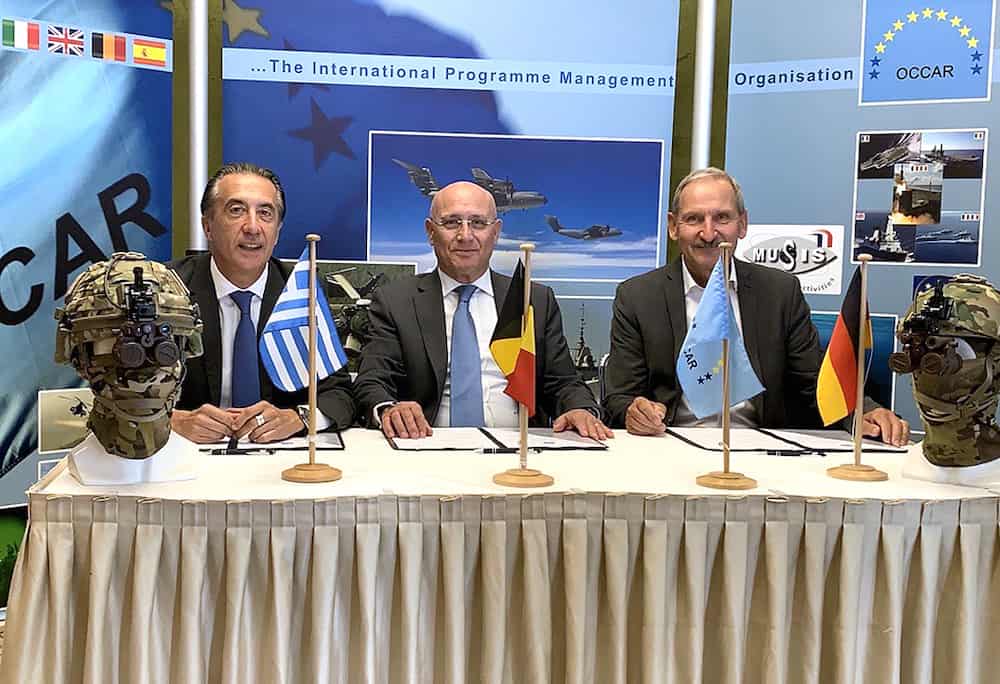 The Organisation for Joint Armament Cooperation (OCCAR) has signed a contract amendment to an existing contract with HENSOLDT Optronics and THEON SENSORS for binocular Night Vision Googles (NVGs) on behalf of Belgium and Germany.
The contract amendment, worth a mid-three-digit million amount, activates the existing option of the supply of an additional 20,000 MIKRON NVGs to the German Armed Forces. The delivery schedule shall be accelerated.
The MIKRON binocular NVGs have two 16 mm residual light amplifier tubes and integrated infrared illuminator. They can be worn by the soldier either on the helmet or by means of a headgear system. The two monoculars can be folded away separately. MIKRON is powered by a single AA battery but can also be operated with an external battery pack should a longer operating time be required.
The amendment furthermore covers various enhancements of MIKRON and changes to the system configuration as a result of the Operational Testing and Acceptance phase which was successfully passed by the end of February 2022.
This follow-up contract will be executed by the HENSOLDT Optronics-THEON SENSORS joint venture known as HENSOLDT Theon Night Vision.
"The additional 20,000 NVGs supplied to the German Armed Forces proves the success and perspective of OCCAR's program through the new joint venture company HENSOLDT Theon NightVision," said the Director of OCCAR-EA, Matteo Bisceglia.
"HENSOLDT and THEON have already worked together successfully in the past. Here, two European companies are working together in an exemplary way to equip the Belgian and German armed forces with state-of-the-art night vision equipment," said Andreas Hülle, Head of the Optronics & Land Solutions Division and Managing Director of HENSOLDT Optronics. "This order is directly related to our growth strategy. Russia's war against Ukraine shows how important networked high-performance sensor technology and optical systems are for equipping our armed forces in line with the times."
Christian Hadjiminas, CEO of THEON SENSORS, added: "This new large contract amendment is a culmination of the successful cooperation between HENSOLDT Optronics and THEON SENSORS that opens doors for synergies and co-operation in other areas within Europe. The present growth is not only beneficial for the countries and companies involved, but also is strengthening the European industrial position in the worldwide context."
The accelerated delivery schedule of the enhanced MIKRON will start with first deliveries July 2022, while the total current contractual quantity of 29,550 NVGs is planned to be concluded in the third quarter of 2024. The increase in night vision capability for both program participating states is critical in providing advanced equipment for their dismounted, airmobile and air assault soldiers as well as drivers of military vehicles.