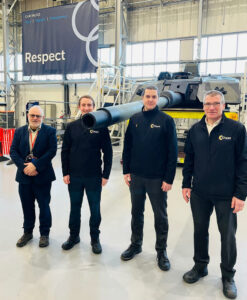 Actuator and motion control specialists Olsen Actuators is partnering with Rheinmetall BAE Systems Land (RBSL) to deliver actuators for the British Army's Challenger 3 Main Battle Tank. 
Following extensive auditing and investments in internal quality systems, cyber security and production capabilities, Olsen has been awarded its first contract to supply packaged and customized actuator assemblies for integration onto the new Challenger 3 Tank.
The contract has helped the UK-based SME to employ four new permanent staff in senior technical positions, re-open the graduate recruitment scheme, retain all existing roles and helped instigate a move to a larger main office with an integrated workshop.
The ninth major program for Olsen, which already supplies other prime contractors in the aerospace and marine sectors, the company believes this contract will ensure both staff retention and the capability to significantly grow its team of technical engineering staff.
As part of the electrical actuator subsystem for the Challenger 3 main armament magazine door, Olsen will also be providing the user interface and electrical controllers with software for the door.
According to Olsen, the high-performance actuator subsystems are a vital enabler of the outstanding functionality and performance that Challenger 3 will provide, whilst maintaining the high levels of survivability and safety required of the British Army.
Olsen's range of actuators, servo motors, servo drives and cables, with control panel assembly, were carefully selected for ruggedness and defense standard compliance. Also critical was Olsen's capability to design, manufacture and complete associated mechanical assemblies to carry out performance testing.
Months of research, feedback and on-site collaboration have resulted in a successful design, made in the UK, that delivers and exceeds the key elements required by RBSL, including:
Strength
Durability
Reliability
Small Footprint
Low Maintenance
"This project is symbolic of the value that Olsen brings to the table in such critical projects. With extensive experience in helping prime defense, aerospace and space contractors, we deliver solutions that are both novel and effective with responsive delivery times," said Piers Olsen, Managing Director and Founder of Olsen Actuators. "Over the last 20 years, we have carefully negotiated exclusive supply agreements with an exceptional range of leading manufacturers from the global market, with products specifically designed for our key industries. These include Curtiss-Wright Exlar Roller Screw Actuators, Macron Dynamics Belt Actuators and XYZ linear robotics, ANCA Linear Motors and ESI Motion Mil-spec Aerospace ready Servo-drives. This enables us to deliver the right package solutions, whether bespoke, COTS or MCOTS, to our clients in an efficient timescale, whilst allowing longevity of supply for the next +20 years."
"RBSL is delighted with the close working relationship that we have quickly established with Olsen and the accelerated design development this has resulted in," said Colin McClean, RBSL Managing Director. "It is also pleasing to see the positive impact this is having within the UK supply chain. We now look forward to collaborating with Olsen on a rigorous program of testing to validate the subsystem design ahead of the manufacturing phase of the Challenger 3 project."
Thomas James, Marketing Manager, Olsen, added: "While Olsen has significant experience in this sector, each new application offers an opportunity to learn. No two projects are the same, though experiences can be shared and transferred from one application to another."
Following a competitive tender process, Olsen's proposal was selected due to compliance with RBSL's technical, cost and schedule requirements. This project was led by Adam Bargh, Technical Engineering Manager at Olsen, and his team, in collaboration with the team at RBSL.
Olsen's actuator solution will receive NATO codification so that it may be used in other suitable applications.