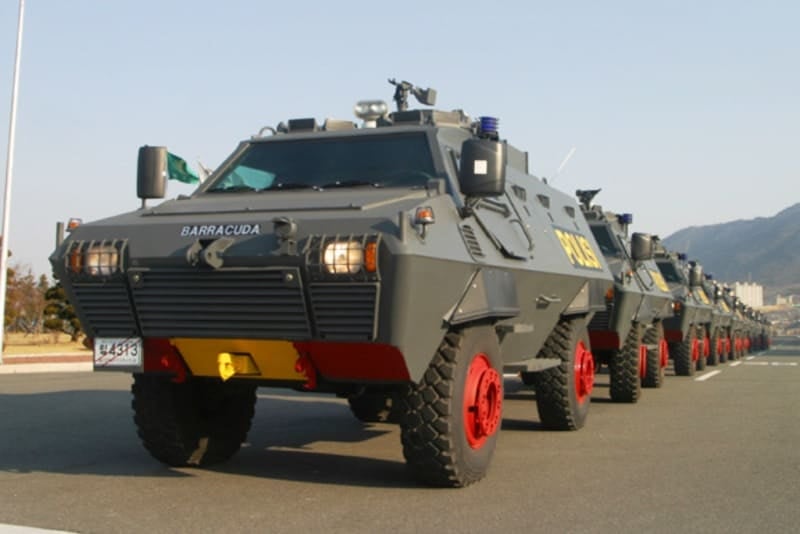 Hanwha Defense will provide a batch of 25 Barracuda 4×4 armored wheeled vehicles for the Indonesian Police Forces under a contract between Hanwha Corporation and the National Police of the Republic of Indonesia after a competitive international bidding process.
The Barracuda tactical armored vehicle can be used for a wide range of roles and missions such as reconnaissance and internal security.
Based on a Mercedes-Benz FGA special chassis, the 12.5-ton vehicle is covered with steel plate armor to provide ballistic protection against 7.62mm caliber projectiles. It features excellent maneuverability with a top speed of 100km/h and long-range driving distance of 1,160 km. 
The vehicle uses run-flat tires to allow for running at 30km/h even when the air pressure is lost after being punctured. It can transport a 15-person crew and can be equipped with a roof-mounted small-caliber weapon station, CCTV, GPS, Dozer blade and amplifier.
The Barracuda vehicle has been operated by South Korean overseas deployment forces, as well as police forces in Indonesia and Vietnam.
As the OEM, Hanwha Defense is responsible for manufacturing and delivering the multi-role vehicles by 2024. This is the second export of Barracuda vehicles to Indonesia since 2004, when a contract was signed to provide a batch of 20 vehicles to the Indonesian Police.
"As a leading developer of armored combat vehicles in the world, Hanwha Defense is fully dedicated to meet the needs of the Indonesian end user under the latest contract," said Kim Dae-young, Senior Executive Vice President of Hanwha Defense's Overseas Business Center. "In particular, Hanwha Defense will continue to offer our top class wheeled vehicle solutions to Asian customers."