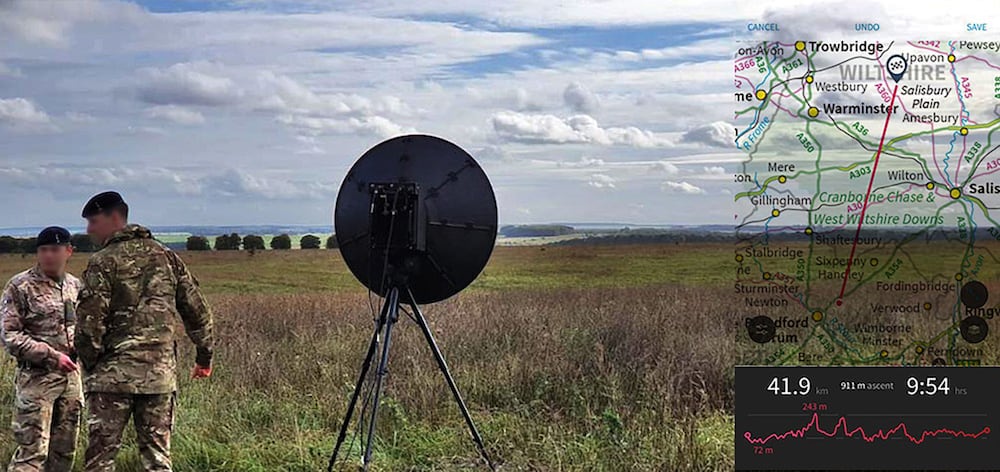 Spectra Group has announced a successful bid to supply the Troposcatter Compact Over-the horizon Mobile Expeditionary Terminal (COMET) system across NATO, including the U.K. Royal Navy for primary use by the Royal Marines.   
The contract has been placed through the NATO Support and Procurement Agency (NSPA), meaning that the Troposcatter COMET is now available to all NATO countries for the next three years via the NATO catalogue.
Tropospheric scatter is a communications capability using the Troposphere (up to about 13 km altitude) to provide communications. The COMET system is small and lightweight with a maximum transmit power of 10-watts and utilizes a 1-meter dish, providing low latency (typically 9-20 mS) and large data links (5-60 Mbps) up to 60 km, but in practice data transfer speeds can be much greater. The system is simple, intuitive, and easy to set up and does not require the use of vulnerable and expensive satellites. The COMET system comes packed in two small cases that can be easily transported, and the system can be established and operational within 15 minutes.
Troposcatter is satellite independent and works in a GPS/GNSS denied environment, so is suitable for use in a Peer-on-Peer conflict/Multi Domain Integration. It has very low latency and can provide huge bandwidth, enabling analysis and manipulation of large data, which combined with its low operating cost makes it suitable for deployed battlegroup. Unlike geostationary satellites, it is effective in polar regions and because it is directional, uses low power and has complex waveforms it is difficult to detect and is highly suitable for many of the challenges U.K. Defense and NATO face.
Future developments with COMTECH have the potential to address many of the problems encountered by Future Commando Forces when operating in the littoral region and trying to enable responsive Command and Control communications while remaining at a safe distance from the enemy's area defense systems that render traditional tactical communication systems ineffective. A high bandwidth Troposcatter COMET system could provide the vital communication link to the bridgehead including Radio over IP (ROIP) to extend BOWMAN and MANET radios systems.
"We are delighted to have been awarded this contract to supply Troposcatter services through the NSPA catalogue which will enable us, in addition to wider NATO forces, to supply and support the U.K. Ministry of Defense and the Royal Marines – who have urgent operational requirements – and are likely to be the early adopters of this deployable long range communication capability," said Simon Davies, CEO of Spectra Group. "We have participated in the British Army's Warfighting Experiments in the past to better understand the challenges and requirements that future combat forces require and have been working hard with our partner COMTECH to deliver these essential capabilities."