Industry-leading vehicle health sensor manufacturer Reventec has introduced new liquid level sensors, the LSM100-MICRO, the LSM500-CONTOUR and the LSM600-HEAVY, designed to push the limits of capacitive sensing technology.
All three sensors are making their global debut at DSEI this year and demonstrate the extreme survivability of these high-performance products in hostile environments.
The entire military liquid level sensor line up is currently on display at DSEI including the LSM400-CUSTOM which is designed for vehicle subsystem manufacturers of transmissions and gearboxes and for military vehicle integrators.
Visitors to the Reventec stand will see the newly launched Mil-Spec 360 Degree Dual Channel Rotary Position Sensor with Blade Shaft, alongside current position sensors utilizing field-proven Quantum TMR technology for specific engineering measurement challenges.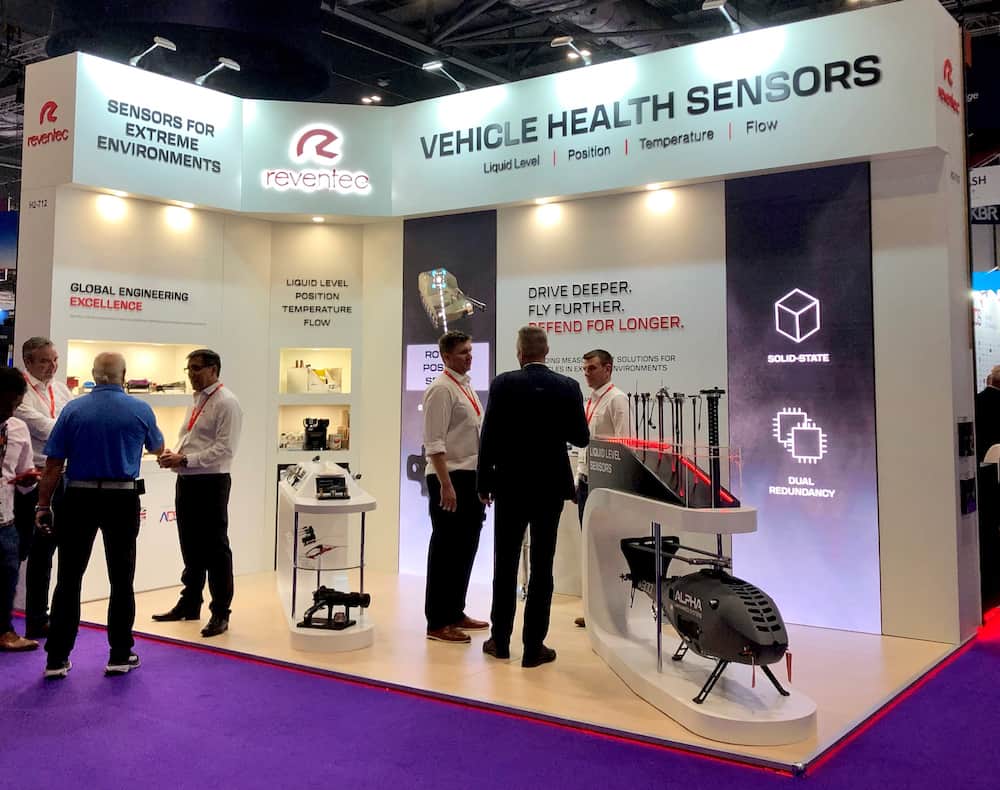 Reventec present new capacitive liquid level sensing capabilities:
The LSM100-MICRO – a lightweight, compact fluid level sensor
The LSM500-CONTOUR – a curved ground vehicle liquid level sensor
The LSM600-HEAVY – an extreme IP69K rated, rugged fuel and oil sensor
Offering superior sensing for military vehicle platforms, Reventec's sensors emphasize the importance of critical component monitoring to extend vehicle's range, enable rapid deployment and reduce vehicle downtime.
Introducing 3 new liquid level sensors
The LSM100-MICRO, LSM500-CONTOUR and LSM600-HEAVY are certified to MIL-STD 461F and RCTA DO160F with high operating temperature ratings of -55°C to +150°C.
The LSM600-HEAVY is a military specification heavy-duty oil and fuel level sensor for contained fluids in high vibration and shock environments. Specially-constructed with wide perforations around the outer rod to allow for maximum fluid intake in highly viscose liquids, the LSM600-HEAVY delivers advanced accuracies of ±0.5% of reading, ensuring laboratory quality precision in a robust instrument that spends its life in the field.
Developed specifically for defense platforms where low weight and size is paramount, the LSM100-MICRO features a 1-bolt mount and delivers either 0-5V ratiometric analog outputs, CAN outputs, or combined, without the need for external CPU processing. The ultra-lightweight capacitive liquid level sensor's compact size and small footprint is well-suited for UAV platforms and can be installed for convenient placement in fuel tanks as measurement accuracy is unaffected by physical orientation of the sensor.
The LSM500-CONTOUR is an example of Reventec's capacitive sensing technology versatility. Featuring a cutting-edge custom contour bend on both the outer and inner tube of the device, the LSM500-CONTOUR is shaped to deliver dependable fluid level readings in tanks with unusual geometries. With ingress protection up to IP69K and stainless steel construction, the sensor is well-suited for extreme environments.
Neville Meech, Managing Director at Reventec, said: "We are excited to launch our new defence vehicle health sensor on the global DSEI platform and look forward to seeing how these new technologies extend our current product offering to continue to support our customers."
There is an extensive range of customisation options available for each of these new products ensuring that a sensor is compatible to particular vehicle platforms. The connector type, housing geometry, fluid types and mounting configuration are customisable for the specific applications spatial constraints and requirements.