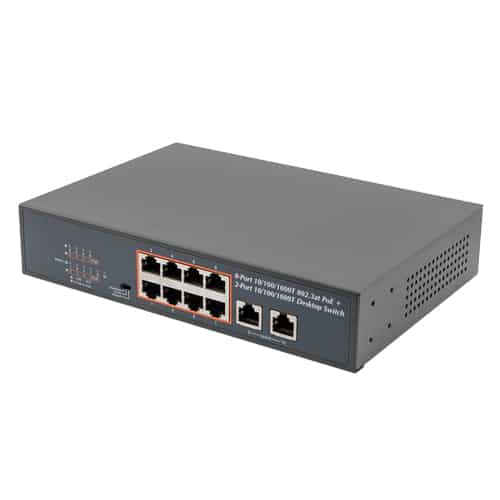 Transtector Systems, an Infinite Electronics brand, has released a full line of Ethernet switches, adding to its comprehensive selection of Ethernet surge protection and PoE solutions. The new range addresses the need for simple, effective and reliable hardware for a range of Ethernet applications.
Transtector's new Ethernet switches include multiple configurations for commercial, industrial and other applications. A versatile wall-mount/DIN rail mount 8-port switch provides an innovative, compact footprint that's ideal for desktops, factory floors or NEMA enclosures. Other configurations include a desktop switch and a small form factor pluggable (SFP) option. All three options are PoE+ capable for power as well as data applications.
The Ethernet switches in this line include the following configurations:
Wall-mount/DIN rail mount 8-port switch: Innovative, compact and versatile design with four PoE+ ports, four standard ports and a high power rating. Ideal for delivering PoE in commercial/industrial applications, offices, factories or in a NEMA enclosure
Desktop 8-port triple-speed switch: Eight PoE+ ports and two uplink ports, plus LEDs for each port and a separate display showing which ports are using power
Compact, small form-factor pluggable (SFP) switch: Includes media conversion and PoE+ to combine PoE and Ethernet extension in a mini form factor.
"The applications for Ethernet are virtually limitless, and with our new switches, Transtector provides engineers with a single, trusted source for the protection and management products required in today's mission-critical environments," said Dustin Guttadauro, Product Line Manager.