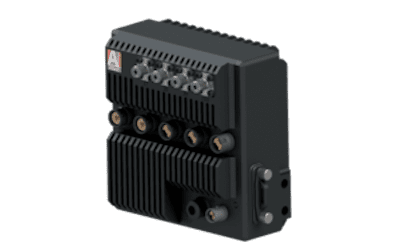 Aitech expands its General-Purpose Graphics Processing Unit (GPGPU)-based product line with the A179 Lightning, a rugged, fan-less AI supercomputer with an ultra-compact footprint roughly the size of a cell phone.
The SWaP-optimized A179 is powered by the NVIDIA Jetson Xavier NX platform based on the Volta GPU, with up to 384 CUDA cores and 48 Tensor cores. The high-performance, low-power unit reaches 21 TOPS (Tera Operations Per Second, INT8) at a high level of energy efficiency. It's ideal for rugged applications relying on real-time data processing.
The A179 offers 1050 GOPS/W INT8, the best available performance per watt as well as an H.264/H.265 hardware encoder/decoder. Video capture is made easy with several input types that enables multiple video streams simultaneously, including SDI (SD/HD), four FPD-Link III (to MIPI CSI) camera inputs and eight composite (NTSC/PAL) channels.
The A179 helps bring this powerful computing to more military applications employing AI-based supercomputers, such as situation awareness and targeting systems, drones as well as man-portable systems, augmented reality and a broader set of unmanned aerial vehicles (UAVs).
Standard I/O ports, such as Gigabit Ethernet, USB 3.0 & 2.0, DVI/HDMI out, CANbus, UART Serial and a number for discretes, offer flexibility in data management.
The system also accommodates up to two optional expansion modules (via factory configuration), such as additional I/O expansion modules or an optional NVMe SSD.
The system allows for a removable Micro SD card and features 8 GB of LPDDR4x.
Dan Mor, Director, Video & GPGPU Product Line for Aitech, noted, "Rugged AI performance is the leading-edge advantage in military intelligence. Being able to use GPGPU-based systems in the harshest environments gives system engineers the ability to forge new ground in rugged embedded computing."