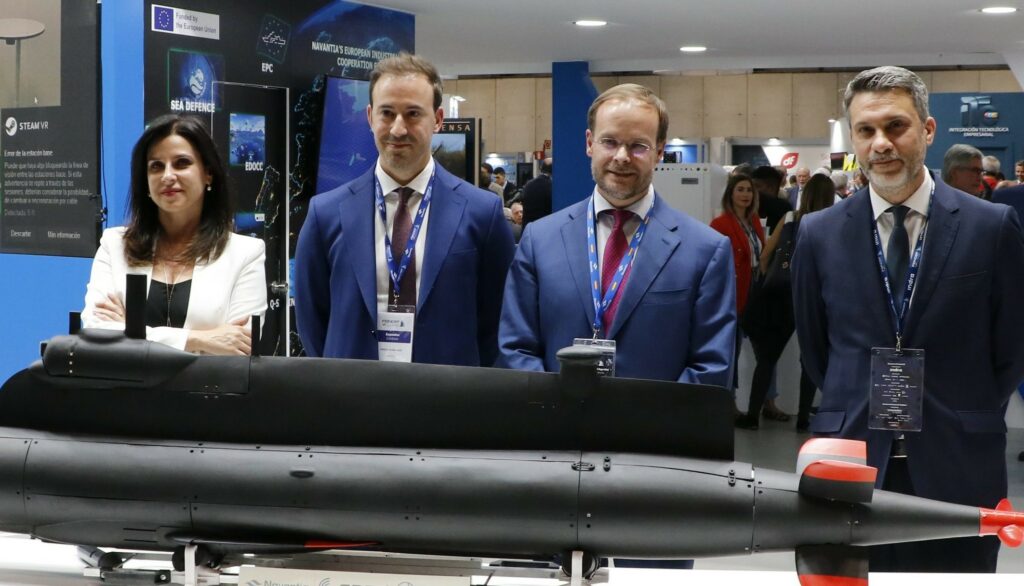 During the FEINDEF Defence and Security Exhibition, Navantia, SAES, and Perseo revealed intentions to develop unmanned underwater vehicles (UUV) equipped with state-of-the-art sensors.
A UUV prototype was exhibited with distinctive features that would allow it to cover a multitude of missions. This first approach is focused on its use in mine countermeasure (MCM) missions, although its possible application as an advanced sensor or loitering munition is being studied based on the same development and with few modifications.
Donato Martínez Pérez de Rojas, Technologies and Digital Transformation Director and Systems and Services Director at Navantia, Joaquín López Pagán, President and CEO of SAES, and Sergio Olmos Guío, CEO of Perseo Techworks, expressed their commitment to collaborate in promoting innovation in the field of autonomous underwater vehicles.
"Unmanned vehicles are an asset of growing importance for the armed forces and civilian applications. Navantia already has experience in the development of unmanned surface vessels (USV), and together with SAES and Perseo, we want to expand our catalogue to those intended for the submarine domain," said Donato Martínez.
SAES President Joaquín López Pagán, commented: "At SAES, we are committed to the development of sustainable technologies in the naval sector. Our experience in underwater acoustics and electronics positions us as one of the main players in providing autonomy to unmanned vehicles and collaborating in their development to make them truly autonomous. Moreover, as they do not require human crew members, these vehicles are a safer and more economical option for carrying out defense missions and civilian applications."
"The development of unmanned systems requires specific technologies and working methodologies for competitive developments. Perseo Techworks works on these enabling technologies within a work scheme that allows for rapid iterations, in which simulation, rapid prototyping, and testing and trial capabilities are intertwined to create products with very short development times and adaptable to a constantly changing market," added Sergio Olmos Guío.
Find Unmanned Underwater Vehicle manufacturers and suppliers of military UUV for inspection & defense applications >>