EIZO has released the following article that discusses how important it is to use high-quality monitors that accurately display information and meet the needs of harsh military environments.
Important Factors of a Rugged Monitor
With ever-evolving requirements and strategies in defense, come new challenges and the desire to utilize the latest technologies to meet those needs. Now that data has become an important tool used in all military operations, it is just as important to deploy and use high-quality monitors that accurately present information. Such rugged monitors, deployed in naval, airborne, ground, and other applications must have adaptable features to meet the needs of the diverse environments that they are used in.
Military personnel use displays for a range of applications – some critical and others non-critical. Mission Displays are often used in harsh environments with extended temperatures and high humidity and also in situations with a lot of shock and vibration. Some of those applications include moving maps, terrain charting, strategic battlefield planning, UAV Ground control and target tracking. In such mission-critical situations, there is no room for compromise on display or operational performance. Features such a color accuracy, pixel sharpness, brightness, contrast, viewing angle, and reliability/performance over extended temperature are extremely important for both, accurate decision making and human function.
Most rugged monitors consist of the same internal components that drive the LCD display. How the monitor is manufactured and assembled is what makes each monitor unique. Key capabilities of military-grade LCD monitors are ease of use, clear readability, device interoperability, and rugged design. These displays must incorporate a range of technology advancements and be designed seamlessly to integrate with other solutions and systems on the platform. Besides, the optical quality and reliability, the long product life cycles also become important.
Military-Grade Monitors Must Be Adaptable
It isn't unusual to find mission displays in tiny cockpits or in the lower levels of military vessels with dim lighting. Military-grade monitors must be versatile enough to support the various application types and environmental conditions where it is used.
For a screen to be easy to read, there are several components of the LCD screen to take into consideration such as LED backlights, optical bonding, and screen coatings. A monitor's panel is made of up several layers including the touch screen, filters, bonding material, and the liquid crystal cell unit. Combining them is an extremely sensitive process and requires expert knowledge of LCD assembly.
LED backlights increase screen brightness, enabling operators to see information with greater depth of field and sharpness with less eye strain. Modern LCD screens use edge lit LED screens, with a row of LEDs around the rim of the screen. This helps operators see images and videos clearly from awkward angles or view panels mounted on a wall (distance viewing). When anti-reflection and anti-glare coatings are applied to screens, operators gain significantly better visibility in bright light conditions
With advancements in LCD capabilities, there are many touch screen options available. These different types of touch screen monitors enable operators to interact with the screen without diminishing performance. Projected capacitive (PCAP) touch screens respond to static electricity in human skin as it touches the screen.
Modern PCAP touch screens allow users to wear gloves while they're interacting with the touch screen. They're also smart enough to distinguish between drops of water and touch actions. Recognizing the high value of PCAP touch screens for defense and aerospace applications, leading vendors have ruggedized and adapted electronics and enclosures to ensure PCAP touch screens meet military standards and can be used in any field conditions.
Multi-Function Rugged LCD Monitors
It is important to remember that aerospace and naval programs are expected to serve for years to come, so the technology implemented has to support extended life cycles of 10 – 15 years. Monitors used in defense applications must support both legacy systems and digital video distribution systems, and have flexible I/O so it can connect to other system components. Key features of rugged monitors used in the military are Picture-in-Picture and Picture-by-Picture options, image enhancement technology, and the ability to display low-latency, high-definition video.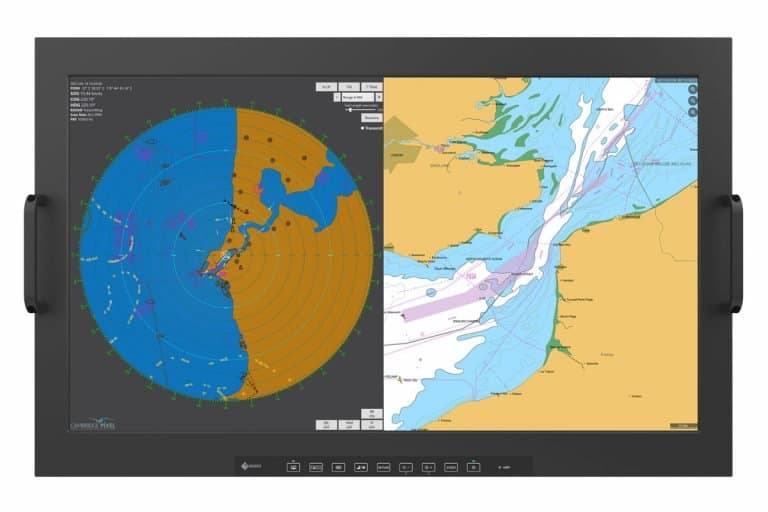 There are many cases when operators might need to quickly zoom the image in or out or switch to night vision in an instant. The monitors used must remain reliable no matter how complex the task might be. Other rugged capabilities such as multi-signal input, screen splitting, sunlight readability, and night goggle support give operators the ability to complete missions accurately and discreetly.
MIL-STD Monitors
To reduce the risk of product failure, monitors used in rugged environments must comply with strict military requirements due to the high pressures and temperatures experienced while in use. MIL-STD-810, MIL-STD-461, and 901D.
MIL-STD-810 for environmental engineering design and testing
MIL-STD-461 for radiated emissions and electromagnetic compatibility
901D shock impact requirement for shipboard equipment in accordance with NAVSEA
EIZO carries out vibration, shock, humidity, decompression, and extreme temperature testing at its own in-house durability test center. EIZO Rugged Solutions' series of COTS rugged monitors are developed, manufactured, and tested in-house by expert engineers at EIZO's own facilities, including the main controller boards, auxiliary PCBs, LCD unit, optical bonding, housing, and more. Taking control of the production chain from development onward allows EIZO to ensure quality, minimize delivery lead time, and provide extended lifecycle support.
We take extra measures to ensure rigorous quality control. We use anechoic chambers for compliance with international industry-specific regulations and an ISO Class 1 Clean Room where each layer of the LCD unit is cleaned, placed into a pressurized chamber to remove air pockets, and attached to the bezel. This process is imperative to ensure the best possible display performance in the finished product.
Talon monitors can be used in a variety of applications such as naval systems, air traffic control, mobile surveillance, guided missile systems, aircraft carriers, mission control centers, special forces, and shipboard or airborne ISR. Using the most advanced pixel technology and image enhancement software, our monitors provide a visual advantage to any mission.
Whether it be screen size, housing design, interfaces, bonding, or night vision optimization, EIZO works with customers hand-in-hand to design the ideal solution.
EIZO has over 50 years of experience in developing and manufacturing visual solutions for mission-critical markets. Our pride comes from the care and dedication that goes into every step of production and in supporting our customers, that is the EIZO way.