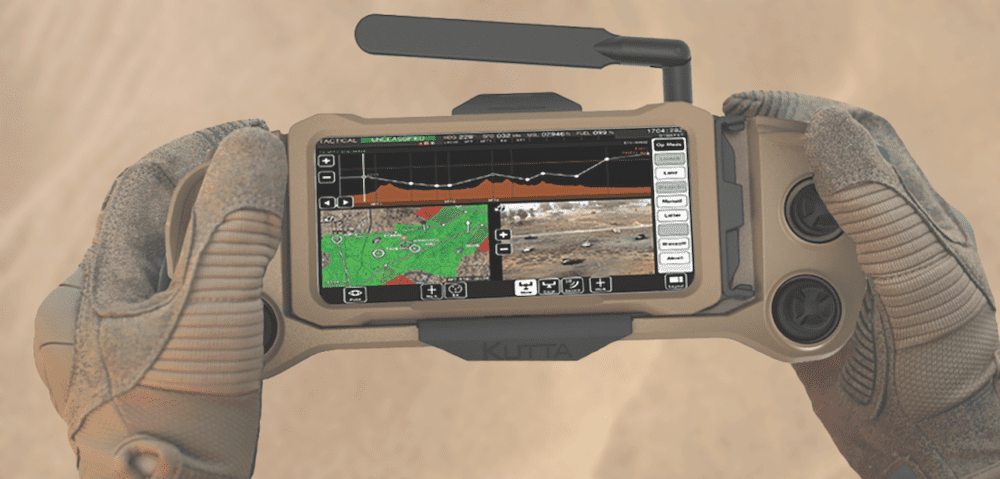 Kutta Technologies, Inc. (Kutta)'s common Kutta Tactically Aware Controller (K-TAC) has been selected for the Soldier Robotic Controller (SRoC) Program. 
The core objective of the SRoC program is to develop solutions for small Unmanned Aerial Systems (sUAS) and Unmanned Ground Vehicles (UGVs) that will reduce operator workload and provide seamless integration with currently fielded equipment. The hand-held K-TAC allows soldiers to control multiple types of robotic platforms – including both air- and ground-based unmanned systems – from a single controller.
In recent years the number and variety of Unmanned Aerial Vehicles (UAVs), UGVs and Unmanned Surface Vehicles (USVs), as well as unattended sensors, has increased significantly across the U.S. Department of Defense (DoD). Most of these platforms are typically controlled by a unique, proprietary device with one-off user interfaces. In addition to increasing procurement cost for the DoD, managing various devices and interfaces also presents resupply challenges and significantly increases training requirements. The SRoC program is part of the DoD's effort to solve these issues within the U.S. Government.
"Kutta's modular, hand-held device leverages low-cost, commercial cell phones to keep the weight and cost down," said Matthew Savoca, Kutta's executive vice president. "Plus, the K-TAC has already been shown to control sUAS such as the U.S. Army's Raven and commercial quad-rotor drones, as well as the U.S. Army's four-wheeled robotic ground vehicle, the MRAZR."
The K-TAC does not contain any proprietary physical or digital interfaces, weighs less than two pounds, easily integrates with military radios and fits in a soldier's pocket.
"These characteristics make K-TAC the perfect candidate for a universal controller to host an ecosystem of software applications, just like everyone does on their cell phone today," said Doug Limbaugh, Kutta's chief operating officer.