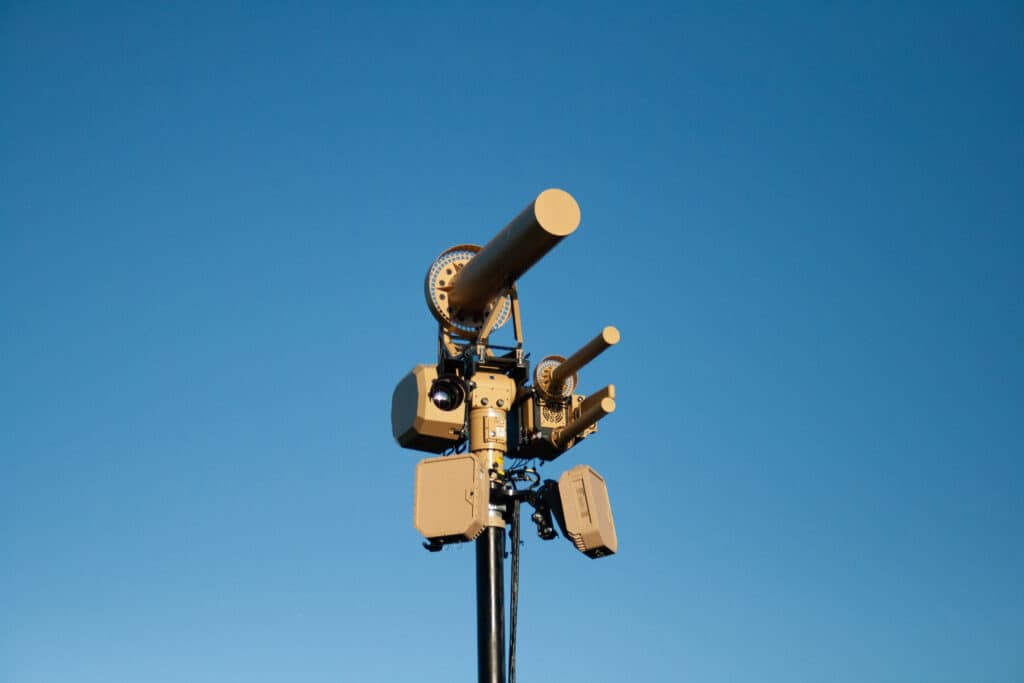 Chess Dynamics has integrated a number of new sensors within its Counter-Unmanned Aerial System (C-UAS) technologies to enable a more robust response to UAS threats.
Through new partnerships with technology companies Echodyne, Squarehead and CommTech (TCI | ECS), the development adds a next generation Electronically Steered Array (ESA) 4D radar and advanced acoustic technology to Chess' existing C-UAS portfolio.
The C-UAS system is now capable of detecting targets at maximum distance, locating with 4D coordinates, ensuring accurate and stable tracking, and providing precise classification and identification to enable authorized response protocols.
Rupert Grinling, Land Sales Manager at Chess, said: "UAS technology continues to advance rapidly and efforts to counter these threats are becoming increasingly challenging. This integration has the potential to revolutionize the way that C-UAS threats are managed. Chess's C-UAS portfolio is a true Swiss army knife. The enhanced system is capable of providing a comprehensive and cutting-edge technology solution for operators in the aerial littoral."
He added: "Our integrated C-UAS System will enable customers to deliver a more effective response through increased situational awareness via our C2 System while identifying threats earlier with our new increased performance sensor systems. This provides a platform for more effective decision making, and with the incorporation of target identification and image tracking software the process is more efficient, timely and less burdensome to the operator."
Unrivalled C-UAS Portfolio
The full suite of C-UAS technologies for the 0-10km range includes Chess' new comprehensive C2 system which provides a simple user interface, Echodyne's 4D Radar, providing 360° Az x 90° El coverage, Squarehead's Acoustic Sensor nodes that offer a distributed network of passive detection, R/F D/F technologies, CommTech's Jammer, and Chess' latest HD Electro Optical/infra-red EO/IR camera with edge processing, enhanced difficult target tracking and classification.
The multi-sensor fusion provides a system level of performance consistently higher than that of the individual or non-integrated sensors and effectors.
David Montague, Director of Business Development EMEAI at Echodyne, commented: "We were delighted to work with the Chess team to bring our breakthrough C-UAS 4D Radar Technology to the UK. The integration and testing have progressed extremely well, and we are very pleased with the results."
Marc Haysey, UK Managing Director and Commercial Leader at CommTech (TCI | ECS), said: "We have been in partnership with Chess since 2015 using the Claw Inhibitor and more recently Drone Detection and this integration further cements our long-term relationship. CommTech is providing the RF detection and RF inhibition capabilities to complement Chess' EO and C2 systems."
Stig Nyvold, CEO at Squarehead, added: "Discovair from Squarehead is the passive sensor that enables directional detection of drones and other threats using acoustics alone. We are proud to have worked with Chess Dynamics to build a system that covers the entire drone threat matrix, not only parts of it. Chess has proven themselves a valuable partner with an impressive technology platform."
Find C-UAS Equipment manufacturers and suppliers of Counter-Drone systems and technology for military and defense applications >>