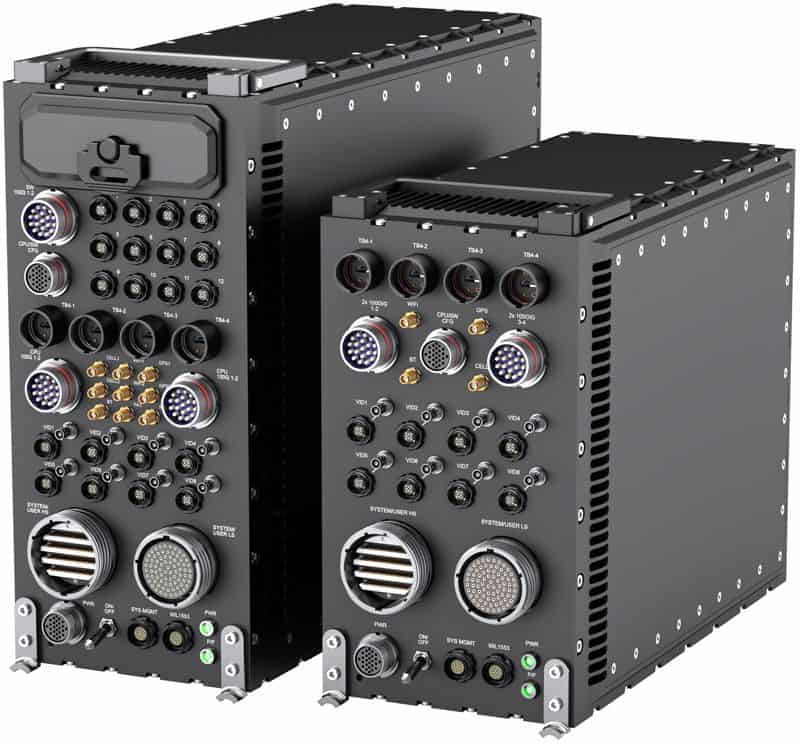 General Micro Systems (GMS) has launched its 8-slot DominATR 3U OpenVPX chassis to support US Military and commercial applications.
As part of the GMS X9 Venom product family, the chassis' revolutionary architecture and lightweight materials are said to offer improved performance, reliability and operating ranges designed to address the growing compute and networking needs of the future battlefield.
According to GMS, the technical innovations in this chassis were recognized at the AUSA 2022 Annual Meeting & Exposition, earning the coveted Military Embedded Systems 4-Star Award in Rugged Computing.
Ben Sharfi, chief architect and CEO at GMS, said: "Our soldiers, sailors and airmen need groundbreaking technology and flexibility to manage both the known and emerging computing and massive data movement needs of the future digital battlefield. This new chassis family solves the problem of bringing extensive amounts of high-speed I/O to an OpenVPX-compliant ATR chassis, offering extensive provisions for copper, fiber and RF I/O without compromising performance, ruggedization or size."
More than just a 3U OpenVPX chassis with eight slots, DominATR is available in many configurations, including several pre-configured versions designed for sensor fusion, AI processing, and data recording. High-speed 100Gb Ethernet "fat pipes" connect to external sensor concentrators or switches, and up to 30 10Gb Ethernet sensor ports allow the chassis to serve as a single sensor fusion data processing node. Flexible CPU and GPU options bring workstation, microserver and artificial intelligence processing onto deployable platforms and alleviate the need for unreliable cloud computing reachback. With up to 1680W of power and reliable cooling, DominATR chassis is believed to set the industry standard for OpenVPX, standards-based ATR systems.
The X9 Venom family of 3U OpenVPX products are SOSA (Sensor Open Standard Architecture) aligned and ready to meet the C4ISR/Electronic Warfare Modular Open Suite of Standards (CMOSS) requirements of US military programs and platform upgrades. The new 8-slot DominaATR 3U OpenVPX chassis is available in aluminium alloy and carbon fiber, saving up to 30% in weight, and offers:
Highly configurable front panels to support changing battlefield needs, including up to 8 – 30 10 Gigabit Ethernet, 2 – 4 100 Gigabit Ethernet "fat pipes", eight CoaXPress video, and both high and low speed copper connectors as well as fiber connectors for internal backplane and card front panel wing.
Up to four cutting-edge, long-range, and cost-efficient interconnects through the patent-pending LightBolt connector, supporting Thunderbolt 4 fiber or copper and 100W Power Delivery all in one cable.
Per-slot heat pipe cooling with integral heat exchanger to improve reliability and extended temperature operating range.
Optional removable 4-SSD canisters for data storage (1/2 ATR Tall).
Two slots for dual 840W smart power supplies.
SOSA-aligned slots and chassis management, conformant to US Army CMOSS-requirements.
Available in pre-configured mission/application-specific variants, or customized versions.
Sharfi added: "No other ATR chassis delivers as many features, massive I/O and processing, heat management, and power supply options, and no other manufacturer has been awarded as many patents as we've included in this 8-slot DominATR 3U OpenVPX chassis. We're expanding the limits of what chassis providers can do and are now ready to supply U.S. military programs with the power, flexibility and reliability they need."
Manufacturers and suppliers of mil-spec rugged computers, military embedded computers, portable and rack-mount computers for military vehicles, equipment and operations >>