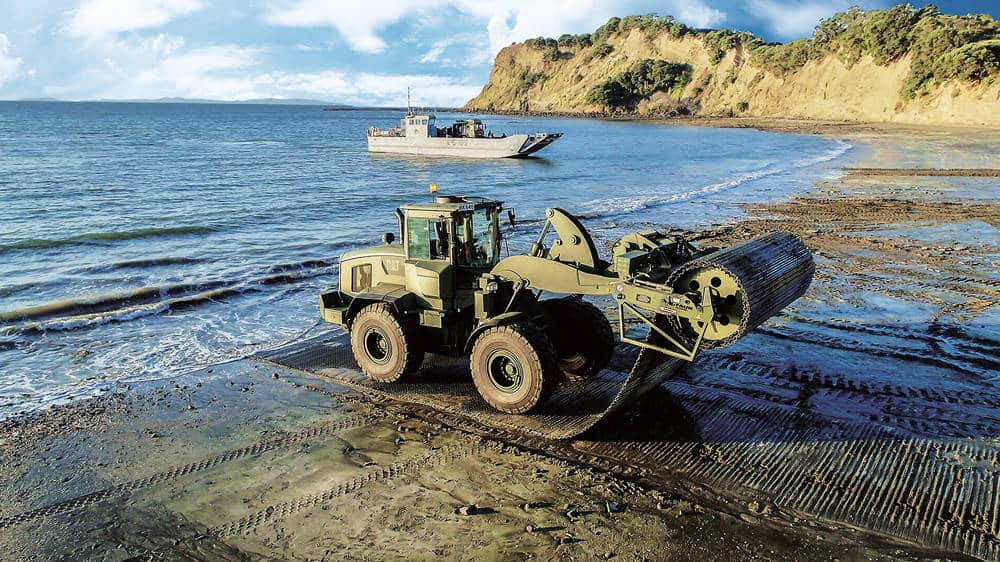 Faun Trackway, the UK-based designer and manufacturer of portable aluminium roadways and runways, has successfully completed the delivery of Medium Ground Mobility Systems to the New Zealand Defence Force. Training of the equipment was completed by the 5th Movements Company Capability Branch at Army Bay, Whangaparaoa, where the deployment and recovery of the Trackway was conducted in quick succession by a CAT 938K Material Handling Equipment, and modified by Gough Cat.
Purchased as part of the Capability Branch's Logistics over the Shore (LOTS) project to facilitate the transfer of personnel, equipment and material from ship to shore and beyond, the Medium Ground Mobility System enables vehicles to navigate through challenging terrain by stabilising the ground conditions and allowing for a temporary and portable aluminium route.
Comprising of FAUN Trackway's M30H Trackway solution which is coiled onto a Spool; the Trackway is deployed and recovered by their Medium Beam Dispenser which attaches to the CAT 938K. In under six minutes, up to 40m of M30H Trackway can be deployed, with additional matting joined quickly and effectively to create a longer route or turning area; this is simply carried out by unloading the empty Spool and loading a second.
Chris Kendall, CEO at FAUN Trackway Limited, said: "We were delighted to join the 5th Movements Company during the trials at Army Bay. Their professionalism led to a well-executed exercise of the FAUN Trackway Medium Ground Mobility System.
"Our constant strive for engineering excellence drives us to deliver innovative systems that truly meet the needs of modern armed forces. This latest system will allow the 5th Movements Company to reinforce its over the shore capabilities.
"We'd also like to thank our Global Representative Rohan James from Forward Defence for his hard work and efforts".