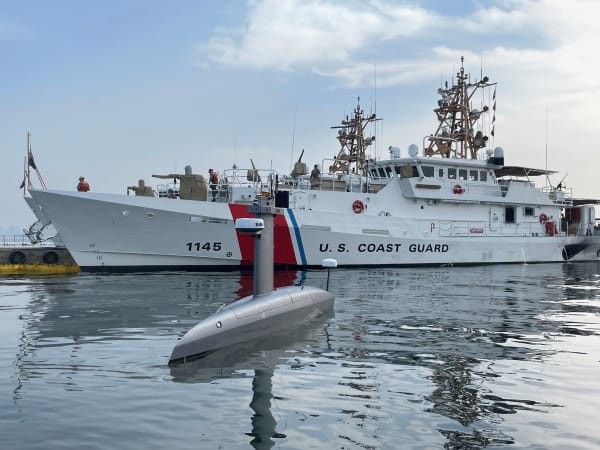 Exail's DriX has taken taken part in the Digital Horizon Unmanned & Artifical Intelligence Exercise in Bahrain, a three-week exercise held by the U.S. Navy's 5th Fleet to test new unmanned technologies.
The exercise is part of the US Navy's plans to establish the world's first Unmanned Surface Vehicle (USV) fleet of 100 drones in the Gulf by the end of the summer.
Manned assets are said to be increasing demand elsewhere due to the current geopolitical situation, with the Navy looking towards the latest unmanned technologies to expand its capabilities. Vice Adm. Brad Cooper, commander of the U.S. Naval Forces Central Command, U.S. 5th Fleet and Combined Maritime Forces, set up Task Force 59 last year to speed new tech integration across the 5th Fleet, and seek alternative, cost-effective solutions for conducting Maritime Domain Awareness (MDA) missions.
Exail's DriX USV was among fifteen USVs and Unmanned Aerial Vehicles (UAVs) selected to participate in the exercise, which staged a Maritime Domain Awareness (MDA) mission. The USVs and UAVs were tasked with gathering data on the surface in order to detect and identify potential threats. One of the main requirements was for the drones to communicate with each other using a common OPS system. The complementarity aspect of the different drones was also important, as the 5th Fleet aims to leverage the different capacities of each drone to cover a wide array of competencies in order to produce a Common Operating Picture of what is occurring in a specific zone of water.
DriX, with its hydrodynamic monohull and drop keel, was believed to have shown high reliability with excellent seakeeping and speed results, accomplishing its mission of gathering data on the surface and proving its capacity to successfully integrate third party radar and cameras. According to Exail, the ability of DriX to integrate within a military communications network was successfully proven, due to its wide range of communication means, including Certus, 4G, Wifi, and Silvus. The USV further meets requirements in terms of communications redundancy, crucial for minimizing risk, during military operations, and is fitted with an advanced collision avoidance system that ensures robust and safe autonomous navigation at sea.
Guillaume Eudeline, Exail's Naval Autonomy Market Director, said: "We're very happy about the feedback from the TF59 on DriX's performance. We'd like to thank the US Navy 5th Fleet for their support throughout the exercise and in particular Capt. Michael Brasseur and his staff. For the first time DriX integrated a multiple-unmanned collaborative military organization, alongside some of the industry's best. It was a real success and we are proud to have collaborated in this group effort, which showed what unmanned technologies can bring to MDA."
Find suppliers & manufacturers of Military Unmanned Surface Vessels >>