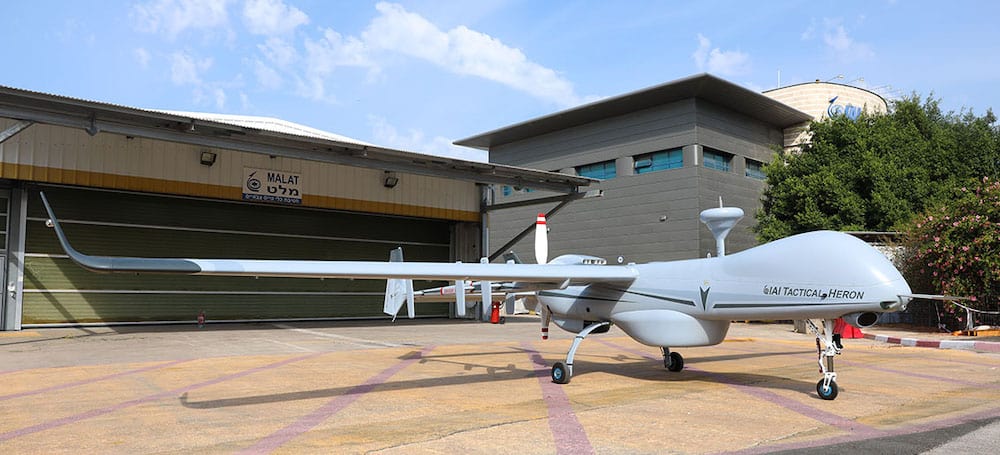 Israel Aerospace Industries (IAI) has signed an agreement of cooperation with Romanian defense company IAR-Brasov to enable the two companies to offer advanced Unmanned Aerial Vehicle (UAV) solutions, based on IAI's Tactical Heron, in Romania. 
Based on the agreement, the UAV systems will be manufactured in Brasov, Romania, and IAI will establish an academy in Romania to train the system operators and technicians for the UAV systems.
Design, production of components and their integration, assembly, and maintenance will all be completed in-house in Romania. From component construction and assembly, to staff training and upgrade and maintenance, Romanian engineers and experts will be leading the development of the UAV.
"I am excited to see the signing of the agreement with IAR-Brasov, one of the leading companies in Romania. We are witnessing an increasing global trend of 'Make In', where countries prefer to manufacture on their own instead of importing," said EVP and General Manager of the Military Aircraft Division at IAI, Moshe Levy.
"IAI aligns itself with this policy and collaborates with local companies around the world, in this instance Romania, an important country to which IAI strives to continue supplying the world's finest UAV systems."
"IAI is a major and reputable name at international level in aerospace and defense. The signing of this agreement of cooperation between IAR-Brașov and IAI represents an important recognition from our partners of our value and expertise," said General manager of IAR-Brasov, Gen lt. (r) Laurian Anastasof.
"Our specialists recently visited IAI Malat facility and we are confident that the teaming agreement between IAR and IAI will bring value to both sides. Production of UAVs such as the Tactical Heron, which incorporate the latest technologies worldwide, at IAR Brașov, will be a major plus for our company business and for the image and reputation of the Romanian defense industry in general."
The Tactical Heron is a UAV designed for tactical battlefield missions, mainly serving land forces. The UAV can carry out multiple missions with various payloads and includes the most advanced technologies IAI has to offer.
The Tactical Heron is an advanced and innovative tactical UAV, with highly-developed performance capabilities. The Heron boasts one of the highest rankings in flight safety and reliability in the world and is able to operate in extreme weather conditions. With a state-of-the-art engine, it can reach a maximal flight altitude of 24,000 feet, a speed of 120 knots and a payload of 180 kilograms. It can simultaneously carry several payloads, and is equipped with IAI's finest sensors. The Tactical Heron meets the world's accepted standards and regulations, and the requirements of NATO's STANAG 4671.