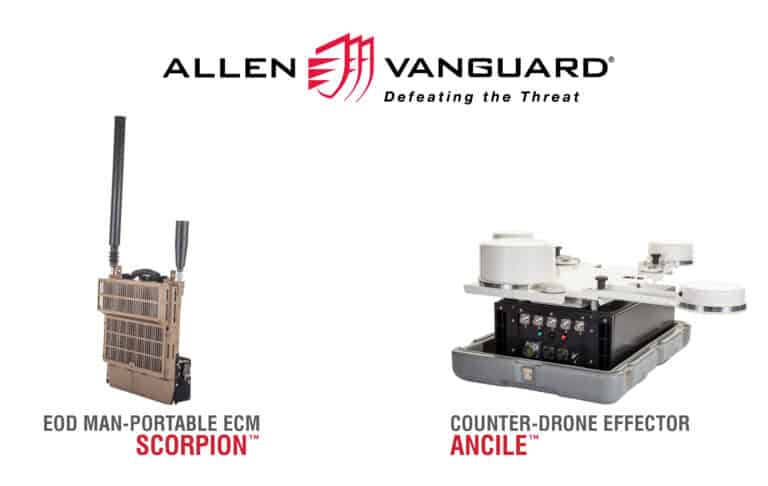 Allen-Vanguard is continuing to develop and supply life-saving Electronic Countermeasure (ECM) equipment for the United Arab Emirates (UAE) Armed Forces through a partnership with TRUST International Group (TIG).
TIG has supported the supply of Allen-Vanguard's ANCILE Counter Unmanned Aerial System (C-UAS) and SCORPION portable Explosive Ordnance Disposal (EOD) ECM equipment to improve the UAE's defense capabilities in electronic countermeasures.
ANCILE delivers RF inhibition to combat commercial drones threats and can be remotely updated with optimized inhibition waveforms designed and developed using global threat intelligence gathered by Allen-Vanguard's Threat Management Team (TMT). When optimized, ANCILE ensures a robust and effective 360 degree no-fly zone that can be applied to convoy protection, operational bases and static facilities alike.
Working with partners, Allen-Vanguard's Field Service Representatives (FSR) supported the customer to create a fully integrated vehicle mounted ANCILE capability that can be quickly transitioned (5 mins) to a ground-based system to provide a simple and robust protective zone.
This system has been previously successfully deployed at the G7 and other similar major events in the region. Allen-Vanguard also provided its SCORPION portable ECM system, which is in-service with the most prominent Bomb Disposal Squads in Europe, the Middle East and the Southern Hemisphere; a first for the UAE.
Allen-Vanguard is aiming to create an indigenous capability that is locally owned and operated, so that sovereign nations have operational autonomy to detect, protect and deter terrorist threats, all backed by a first-class technical training and support infrastructure provided by Allen-Vanguard and their partners. According to the company, this initial capability and support for the UAE is the first step in this process. The aim is to grow the necessary connections to local defense partners and academia, thus allowing regional initiatives to support all aspects of ECM capability from manufacture and assembly through to the most crucial aspects of threat management and advanced mitigation techniques.
"This is an excellent example of how we seek to create local capability to help defeat terrorist threats in the Middle East and North African region," said Allen-Vanguard's Business Director for Africa, Stuart Wilson. "I am very proud of the excellent systems that Allen-Vanguard designs and produces, but equally I relish working with the customer to help create and develop a fully integrated and supported local capability that will evolve and endure as the threat changes. For more information on what Allen-Vanguard can do to support your ECM capability please come and find us at IDEX 23."
Allen-Vanguard will be at IDEX 23, in the Abu Dhabi National Exhibition Center (Booth #C3-006) from 20-24 February 2023.