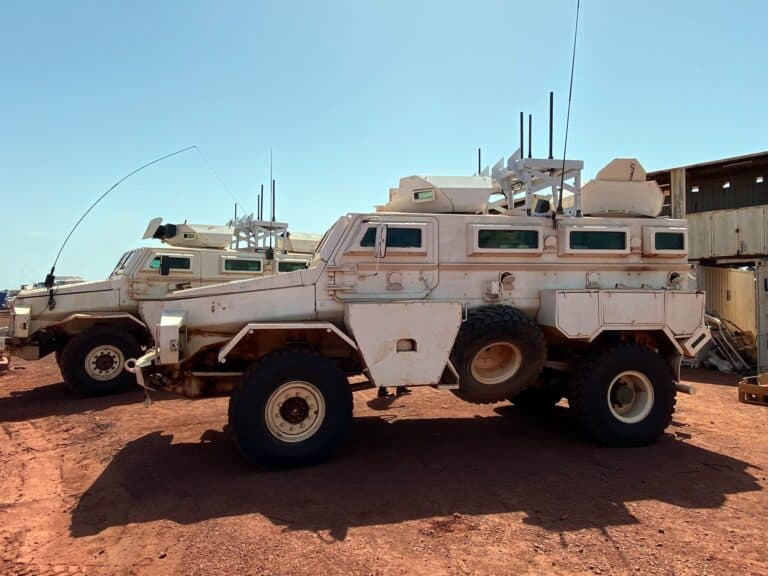 Allen-Vanguard has fitted Electronic Countermeasure (ECM) equipment to 19 Armored Personnel Carriers (APCs) for an African nation that is a major contributor to peacekeeping missions in Africa. 
The APCs, which have a peacekeeping role, have been fitted with Allen-Vanguard's versatile and fully programmable 3XXX ECM suite. This equipment operates Allen-Vanguard's core ECM technology which has been operationally proven both in the African region and globally and is updated with the latest waveforms produced by the Allen-Vanguard Threat Management Team (TMT).
This is a full-time cell of specialist RF engineers and ECM/Explosive Ordnance Disposal (EOD) SMEs whose sole job is to remain abreast of the Radio Controlled Improvised Explosive Device (RCIED) and drone threats and to ensure Allen-Vanguard's ECM capabilities deliver maximum protection.
The Allen-Vanguard Field Service Representative (FSR) team has been deployed in-theater for over a month to supervise the equipment installation and to provide essential end-user and maintenance support training.
This team uses open-source data and operational feedback from deployed assets to monitor regional threat trends for RCIEDs and drones. Threats are then analyzed, characterized and exploited to identify their weaknesses that can be used in the development of waveforms to most effectively defeat that threat.
The FSRs not only design the protection portfolio and then supervise the installation but also provide the essential end-user training and support the maintenance capability to ensure the ECM is both up to date with the latest threat software and that deployed nations can correctly test and maintain their own equipment.
"I am very proud of the hard work and dedication of all our Allen-Vanguard specialists to ensure that the ECM systems we fit for our customers provide the very latest and best possible protection in the region," said Allen-Vanguard's Business Director for Africa, Stuart Wilson. "It is very rewarding to know that our systems help protect our customers from the very real threat of IEDs in the region."