Dantherm has released an article that explains how it calculates and meets the climate control requirements for defense camps, exploring the planning, preparation, installation and after-sale support that it takes to establish the safest and most reliable climate control set-ups in this environment.
---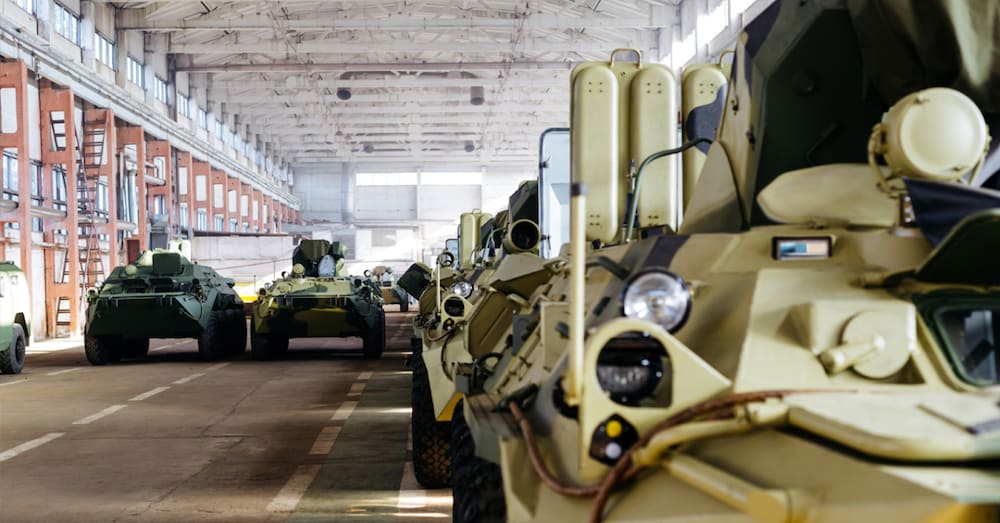 In warzones and other humanitarian disasters, establishing well-thought-out temporary shelters can be crucial for military personnel, humanitarian staff, refugees, or anyone involved in these critical or life-threatening situations.
At their primary function, temporary shelters should provide protection from the elements, whether that is rain, snow, extreme heat, or dust and sand. However, to create safe and relatively comfortable living conditions, there are many other factors that need to be considered – especially in such inhospitable environments.
One of the most important of them is climate control. In remote and/or dangerous locations, heating and cooling units need to withstand extreme conditions while maintaining healthy indoor air quality. This is absolutely vital for the health and wellbeing of anyone living in emergency shelters like tents or containers.
Why you can rely on Dantherm in an emergency
To help as many people as possible, the military or humanitarian organizations need to respond as quickly as they can. That means the equipment they need has to be ready to go at a moment's notice. It should be logistically deployable over sand, ice, snow and mud, transportable by road, sea or air, and have minimal installation when it arrives on site.
Perhaps most importantly, staff and personnel need to be sure that their equipment won't let them down. These high-stake operations are not the time to rely on cheaper units that are incapable of withstanding hostile environments. Not only can equipment failure increase overall costs, it can also put the safety of personnel at risk.
Suitable for accommodation, offices, the protection of servers and telecoms equipment, garages and even temporary hospitals, everything we deliver has been tested to perform under the extreme weather conditions that may occur in all parts of the world across these applications. We supply high-end units that can operate between -40°C and +60°C, withstand rain, snow, dust and chemical attacks with full CBRN/COLPRO compliance.
Despite their capability and suitability for a range of applications, the units we supply are fully deployable without the need for an engineer. In fact, they can be installed without having to use any tools whatsoever. Our units can even be positioned by hand with just a few people, and they include forklift sockets just in case.
Reliability. Usability. Simplicity. Portability. These are cornerstones of our product development. They mean our units can be deployed immediately and fully operational within days or just hours, without specialist support.
Our products are among the best on the market, but that doesn't mean our solutions are the most expensive. Instead of simply quoting a price, we often work with tent or container suppliers to calculate the exact cooling requirements needed for a project they are competing for. As well as ensuring the best solution for deployment, this can help them offer more competitive pricing.
6 essential stages of deployment
While no deployment is the same, our set protocols and processes for planning, implementing and securing climate control in emergency shelters apply at every stage, in any situation, climate or location.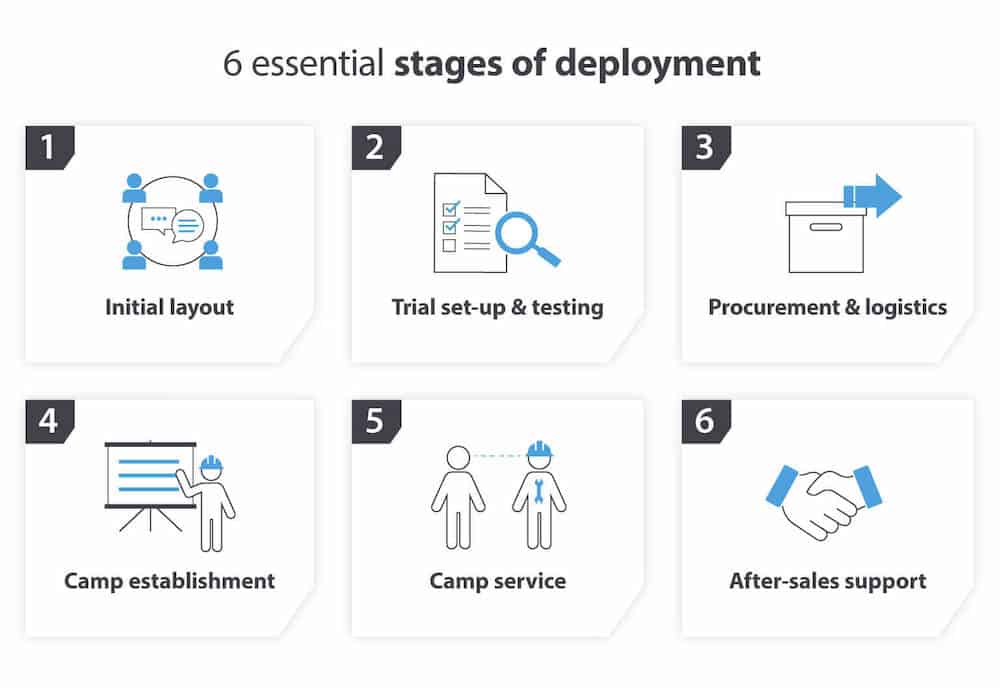 Stage 1: Initial layout
We begin with an on-site consultation to calculate your exact heating and cooling requirements. This is when we establish which solution will be appropriate for your project.
Stage 2: Trial set-up and testing
After testing the units at the Dantherm HQ, we can send units to your site on a trial basis to see how they perform over a few months. We'll often also send our own experts to oversee the testing – primarily to ensure correct installation and answer any questions. They will also help you understand how to achieve the desired temperature at certain humidity levels, and how to get optimum performance and energy efficiency from the units.
Stage 3: Procurement and logistics
With direct contact to internal sales and the flexibility to suit your individual needs, we do everything we can to make the supply of equipment go smoothly.
Stage 4: Camp establishment
After installation and to ensure optimum efficiency, we can offer training at several user levels of staff and personnel on-site to help them get the best from your specific set-up.
Stage 5: Camp service
Via our support hotline, you will have direct access to technicians for any support and maintenance required during operation.
Stage 6: After-sales support
Our testing makes certain that our units will always perform as they should. Even so, part of the relationship with you as our client is being there post-purchase, on-hand to resolve any unforeseen issues.
Client relationship is key
Our decades of experience has taught us the importance of working with clients from first contact through to testing, sales, installation and after-sale support.
By building strong working relationships over the years, we have gained a solid understanding of the various challenges and pain points faced by the military, humanitarian organizations and government bodies. This, in turn, has helped us respond fast with bespoke solutions in emergency situations.
Be ready for the next emergency
To learn how our expertise can help you and your teams, or for more information about our climate control solutions for humanitarian and military defense camps, don't hesitate to get in touch.