MilDef, a leading supplier of electronic rugged equipment and computing rack-mounted hardware for military and defense applications, has released a case study that explains how it worked with Arbit Cyber Defence Systems to enhance Nordic total defense strategies.
---
Nations around the world are busy revisiting and reviewing national Defense Strategies to ensure both defense and critical infrastructure – so that society's total defense is maintained.
This brings opportunities for close collaboration between the Armed Forces and industry players to enhance digitalization and develop unique communication solutions. For example, between MilDef and Arbit Cyber Defence for the Danish Ministry of Defence Acquisition and Logistics Organisation.
Arbit has been instrumental in the digitalization of the Armed Forces' Cross Domain communication, with its unique communication solution for the Army's combat units, which ensures seamless data communication between networks with different classifications. This solution makes it possible to send classified data between advanced frontline devices and headquarters while maintaining INFORMATION SUPERIORITY. It has the highest achievable civilian international certification and on top of this the Ruggedized Gateway is also accredited NATO SECRET and EU SECRET by CFCS (Center for Cyber Security).
Nordic collaboration for best-in-class solutions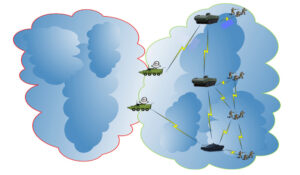 This close collaboration developed as part of the new national Defence Industrial Strategy where the Armed Forces work together with small, highly innovative companies to implement best in class internationally certified solutions.
For this specific solution there were requirements for a fully rugged system for armored vehicles. As MilDef was already a supplier to DALO, it was natural for them to request Arbit to bring them onboard this collaboration and base the solution on their 19"/2 product series.
MilDef offer rugged IT in complete systems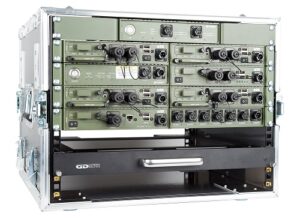 MilDef focuses on high flexibility and customization to provide clients with rugged IT products that can be combined in a number of ways to create a complete system. Their 19"/2 product system allows units to be used as modular building blocks making optimal use of its small form factor, combining exceptional performance to deliver maximum computing capability while keeping the flexibility needed for ever-changing deployments with a minimal footprint.
The result of this close collaboration between the Armed Forces and the defense industry has clearly shown that the strategy is working, and it has given the Armed Forces a new, internationally certified and cost-efficient solution – and all this two years prior to operational deployment.
We stand ready to design and build your products, regardless of volume.
You will find examples in our customer projects and special electronics, where our R&D has worked closely with customers to meet their exact requirements. Contact MilDef to learn more.