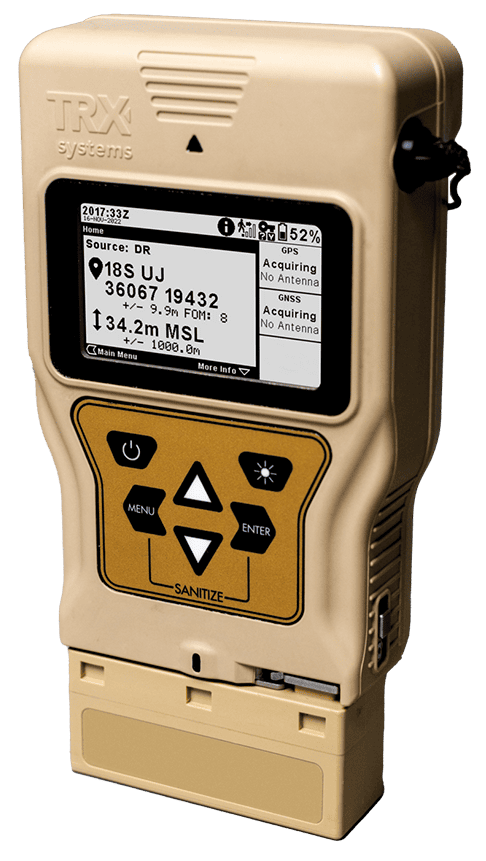 TRX Systems has been awarded a $402 million, seven-year, Indefinite/Delivery/Indefinite Quantity (IDIQ) US Army contract for the procurement of Dismounted Assured Positioning, Navigation, and Timing System Generation ll systems and services (DAPS GEN ll).
The award to TRX is a Program of Record contract from the US Army Program Executive Office for Intelligence, Electronic Warfare and Sensors (PEO IEW&S) for delivery of systems that provide Assured PNT to soldiers operating in GPS denied or contested environments.
The TRX Systems solution to be provided under the contract, known as TRX DAPS II, enables dismounted maneuver operations with speed, surprise, and agility, even where GPS is compromised or denied. TRX DAPS II provides Assured Positioning, Navigation, and Timing (PNT) to dismounted users by disseminating assured position and time to dependent devices in GPS challenged environments.
Reliable PNT is essential to the positioning of forces, navigation, communication networks, situational awareness applications, and systems related to protection, surveillance, and targeting; it is critical for Army Multi-Domain Operations (MDO) in contested areas and for the Brigade Combat Team (BCT) and their supporting units.
Designed to replace the Defense Advanced GPS Receiver (DAGR) for Dismounted Soldiers with Nett Warrior (NW), TRX DAPS II fuses inputs from M-code GPS, inertial sensors, and complementary PNT sources to determine the integrity of positioning, navigation, and timing sources and deliver assured PNT. It is a small, lightweight PNT device that supports both standalone operation and integration with the NW ensemble, and it can distribute PNT information to a customized tactical watch. The TRX DAPS II solution employs a modular architecture and adheres to Army PNT interface standards, facilitating the addition of new PNT sensors as threats evolve.
In 2021, TRX was selected by the US Army to deliver a DAPS GEN 1.2 solution via a Quick Reaction Capability (QRC). Building on the success of the QRC program, after thousands of hours of field testing and incorporation of hundreds of additional Project Manager, Positioning, Navigation, and Timing (PM PNT) requirements, the next generation of dismounted soldier navigational tools, TRX DAPS II, is expected to be in production for the Army later this year.
"Warfighters can be subjected to enemy electronic attacks that degrade their access to reliable position and time, putting their operation and safety at risk," said Carol Politi, President of TRX Systems. "The Assured PNT information provided by TRX DAPS II will secure dismounted Army forces' ability to shoot, move, and communicate in GPS challenged environments."
Find manufacturers and suppliers of Assured PNT solutions and technology for defense >>