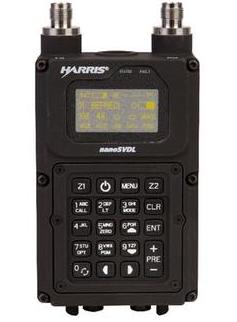 The U.S. Marine Corps has awarded L3Harris Technologies a Full Rate Production delivery order for AN/PRC-165 Handheld-Video Data Link (HH-VDL) tactical radios that will enhance warfighters' situational awareness and battlefield connectivity.
The L3Harris Falcon IV AN/PRC-165 is a Software Defined Radio (SDR) that securely transmits and receives full motion video and data with multiple manned and unmanned airborne and ground assets, improving the warfighter's ability to conduct close air support as well as command and control.
AN/PRC-165 leverages L3Harris' Intelligence, Surveillance and Reconnaissance (ISR) infrastructure, and delivers full compatibility with all existing Common Data Link (CDL)-based airborne products as well as its ROVER product line.
Additional features include fully modernized Type 1 encryption that allows secure, continuous, and interoperable communications while operating in contested environments.
"The AN/PRC-165 provides Marines on the ground with full motion ISR video and data in a secure, resilient, low-SWaP (Size, Weight and Power) transceiver, with full frequency support and modernized Type 1 encryption enabling secure capabilities with the most advanced algorithms," said Bryant Henson, President, Tactical Communications, L3Harris.
"As we move to the future, the AN/PRC-165 and all of our Falcon IV SDR products allow for seamless feature and capability upgrades that will support current and next generation resilient waveforms."
The Marine Corps is the first branch of the U.S. military to be equipped with L3Harris' HH-VDL. In 2018, the Air Force awarded L3Harris a five-year, $130 million contract to develop and field the radios.
Delivery of the radios will start in L3Harris' third quarter.