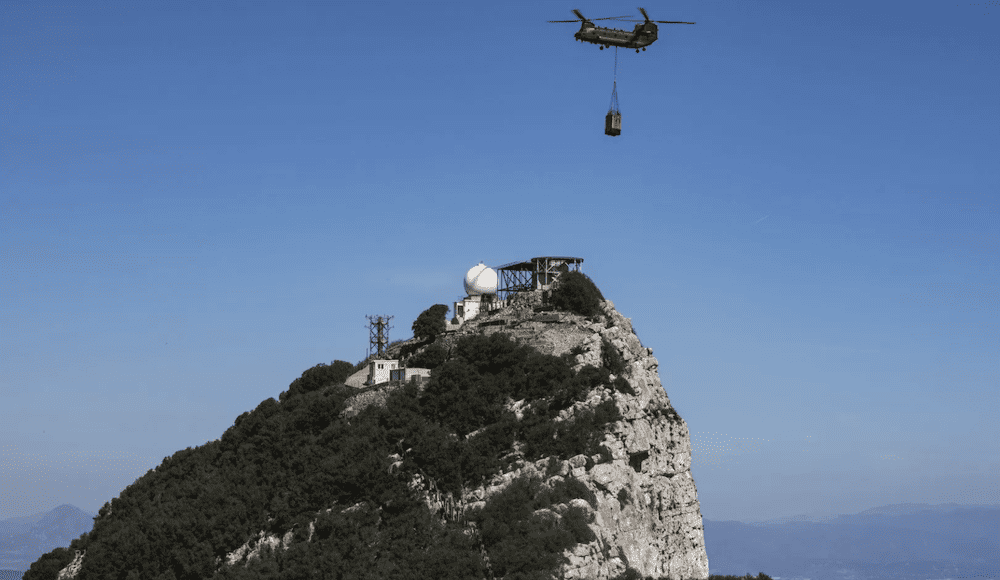 Aquila Air Traffic Management Services has delivered a new radar to serve Royal Air Force (RAF) Gibraltar, with a U.K. RAF Chinook helicopter airlifting the radar onto the top of the Rock of Gibraltar.
The new radar will replace the existing radar at Rock Gun Battery at the summit of the iconic rock to provide reliable and safe military air traffic services as well as air traffic services for the airport.
The new radar system is part of the Aquila-led upgrade of air traffic management for U.K. military air terminals across the U.K. and overseas. The £1.5 billion Program Marshall includes upgrading air surveillance, navigation and communications systems across the U.K. and overseas for the U.K. military, including the RAF airfield at Gibraltar. It aims to ensure increased reliability for air traffic management, improved safety and estimated savings of £317 million for the Ministry of Defense (MoD) over the course of the 22-year partnership with Aquila to support the new equipment.
Helicopter is the only means to transport the 11.8 meter tall radar, weighing over 8,000 kgs, to the inaccessible summit. It was transported as an underslung load by the Chinook in four parts. The radar's rotational turning gear, two large antennae and the 'horn' – the transmit and receive section of the antenna – were each lifted in four separate journeys. A new navigational beacon was also flown to the top of the Rock.
A temporary helicopter landing platform was built at Rock Gun Battery especially for the operation. The platform allowed the helicopter to land the loads above the rough and protected ground of the nature reserve.
The operation to airlift the radar onto the Rock was planned jointly by Aquila, its Program Marshall radar partner, Thales UK, and the MoD.
"I am genuinely delighted at the manner in which this difficult task has been achieved," said RAF Gibraltar's Station Commander, Wing Commander Nel Doherty. "As always, The Rock poses its own set of unique challenges, which makes a like-for-like replacement trickier than normal. However, a talented and very broad team have ensured that all safety considerations were in hand, and that disruption to the people of Gibraltar was minimized. I'd like to thank them for their patience. We expect that [this] will be remembered by many for quite some years to come."