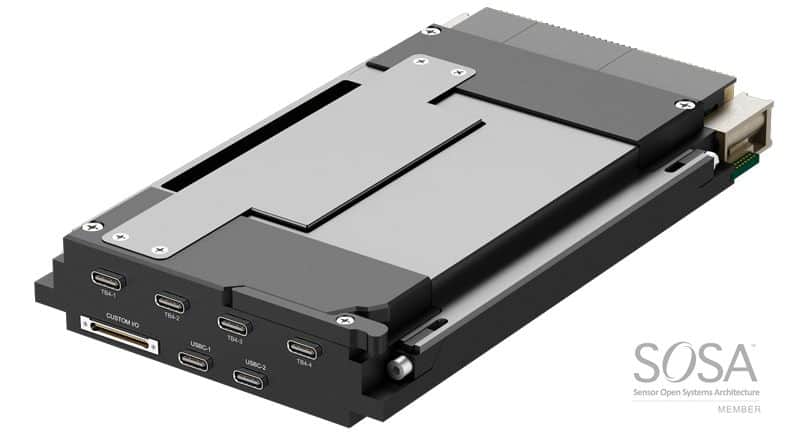 General Micro Systems (GMS) has launched its X9 Venom Xeon D Host 3U VITA 65 OpenVPX single-board computer.
Aligned to the Sensor Open Standard Architecture (SOSA) Technical Standard, the family of high-performance modules support the demanding needs of next-generation warfare with massive, flexible I/O and compute capabilities in multiple configurations.
The single-board computers are powered by up to 20 Intel Xeon D-2700 HCC (formerly Ice Lake D) cores, and unprecedented bandwidth via inter-chassis and front-panel connectivity with Thunderbolt 4, PCIe Gen 4, USB, and 100 GbE ports.
Ben Sharfi, GMS CEO and chief architect, said: "Developed specifically to meet battlefield requirements for instant communications, faster data-driven decisions, and rapid upgrades, the X9 Venom Xeon D Host single-board computers deliver more compute, bandwidth, I/O and memory than any other industry provider. Our Xeon D Host single-board computers include huge data pipes with CPU offload, multiple GPUs for artificial intelligence or graphics, and long-haul fiber via Ethernet or Thunderbolt 4—all in a much smaller, ruggedized and SOSA-compliant form factor, unlike any competitor. In fact, there are no competitors for this compact solution."
According to GMS, the single-board computers (SBCs) are unique due to the compact combination of so much ultra-speed I/O at 40Gbits/s or 100Gbits/s, up to three processors per module, and the breadth of modular, application-specific I/O that interfaces with all manner of defense systems and platforms.
The combination of the X9 Venom Xeon D Host's CPU and optional twin GPUs, PCI Express Gen 4, Thunderbolt 4, and front panel 100G fiber, plus multiple M.2 storage and I/O sites, is said to make Venom the fastest, smallest and most powerful compute and I/O processors anywhere in the world.
The modules are designed for extended temperature, long life, conduction or optional convection-cooling, and operate from a single 12 VDC supply. All versions are OpenVPX, VITA 65, SOSA, and US Army CMOSS-aligned or compliant, with backplane profiles available to best fit the processing and I/O options.
Available in three configurations (standard "D", "NET" and "NAS"), these single-board computers bring unprecedented flexibility to military applications:
Single slot 3UVPX Venom D with two M.2 storage sites, two PCIe-Mini sites, two Thunderbolt™ 4 ports with optional 100 W power, and four 100 GbE ports (two to front panel)
Dual slot 3UVPX-NAS for network-attached storage (NAS), including six M.2 storage sites for up to 40GB of RAID, two PCIe-Mini sites, two Thunderbolt ports each with 100 W power, four 100GbE (two to front panel) and optional dual GPU or quad 100GbE or dual Thunderbolt 4 ports
Dual slot 3UVPX-NET, or high-speed I/O, including two M.2 storage sites, two Thunderbolt ports each with 100 W power, and up to ten 100 GbE ports (eight to front panel), plus optional dual GPU or dual Thunderbolt 4 ports
Based on open standards, all X9 Venom Xeon D Host configurations include:
Intel Xeon D high core count (HCC) CPU up to 20 cores and 64GB DDR4 ECC DRAM, supporting up to 40 parallel threads
Virtual machine computer/server capability providing 20 clients or disparate processes
Up to 10x 100 GbE ports for massive sensor pipeline or inter-board communication for parallel processing
Direct-to-drive and software RAID for NVMe drives
100Gb Ethernet I/O supporting Remote Direct Memory Access (RDMA) over converged Ethernet (RoCE) which offloads local or distant CPUs for "atomic" burst data transactions
To realize the slot density fundamental to the X9 Venom Xeon D Host family, GMS was said to have pioneered, patented and refined a technique that takes a feature-rich, server-sized monolithic motherboard and folds it into a stackable 3U-sized modules. Each module is carefully groomed for timing, signal integrity, EMI mitigation and maximum performance.
The X9 Venom PCBs are interconnected via ultra-high-speed board-to-board connectors that route signals such as PCIe Gen 4 between, and through, the modules with no speed degradation. GMS-unique technology allows nearly 40 lanes of PCIe to be routed effectively between all three boards.
Sharfi added: "If open standards compliant modules like OpenVPX, SOSA, CMOSS, HOST and more are required to comply with the MOSA (modular open standards approach) DoD mandate, the X9 Venom Xeon D Host family is the single best embedded computer to meet the high-performance computing and networking requirements of the modern battlefield. GMS' Venom SBCs do more in one or two slots than the other guys using a whole chassis."
Manufacturers and suppliers of ruggedized military-grade single board computers (SBC) >>