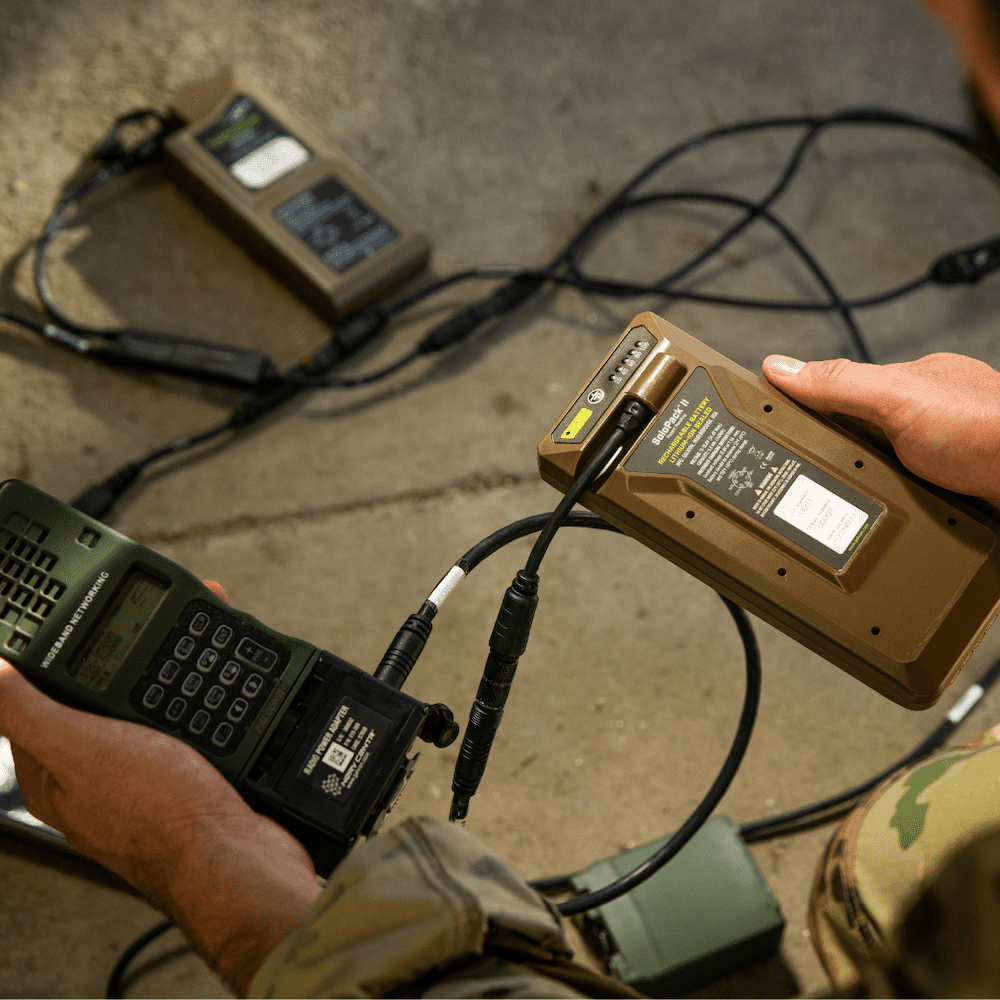 Galvion has expanded its Nerv Centr power provision capability with the introduction of the new SoloPack II Lithium ion rechargeable battery.
The battery, along with Galvion's full suite of Nerv Centr power and data provision and management solutions, and next generation Batlskin head systems, will be on display at booth #1732 at AUSA 2022, October 10-12, 2022.
Radios, Night Vision Goggles (NVGs), GPS, smart phones, laptops, drones, and other surveillance equipment all demand significant power, and the ability to manage that power effectively is mission-critical. Galvion's new SoloPack II builds on the widely adopted and field-proven functionality of the original SoloPack battery, while offering a number of additional features to further support the modern soldier.
Small, lightweight and energy-dense, the next-generation SoloPack II offers 140Wh of energy (40% more power storage capacity than SoloPack), while maintaining the familiar, soldier-centric form factor users expect from the Nerv Centr suite of products. SoloPack II fits into a magazine pouch for ease of storage and weighs only 1.65lbs (750 grams).
A flexible flying lead connects in any orientation, and the next-generation NettWarrior connector allows faster charging and additional current flow, while remaining backwards compatible with standard US NettWarrior and NATO STANAG 4695 for ease of integration and improved logistic sustainability on the battlefield.
The SoloPack II has state-of-charge display for real-time remaining capacity at the press of a button, convenient bottom contact charging and can be recharged while in-flight and connected to Galvion's Squad Power Manager (SPM) which is certified safe-to-fly.
With a higher capacity, SoloPack II is designed to support operational power needs for missions of up to 24 hours, while the original 98Wh SoloPack battery supports short-duration missions of up to 12 hours. With expected availability in early 2023, Galvion's 140Wh SoloPack II rechargeable battery offers users an additional scalable power solution to suit any mission needs.
"The SoloPack II is a prime example of Galvion's unyielding commitment to enhancing the operational effectiveness of those who are out in the field, protecting us. We listened to our end-users – they wanted more power, but without the additional bulk and weight – and we delivered a solution that offers longer mission capability, while reducing logistics and minimizing weight burden," said Kristen Lomastro, President of Active Systems at Galvion. "The less soldiers have to think about while out there, the safer the mission, and that is what drives everything that we do here."