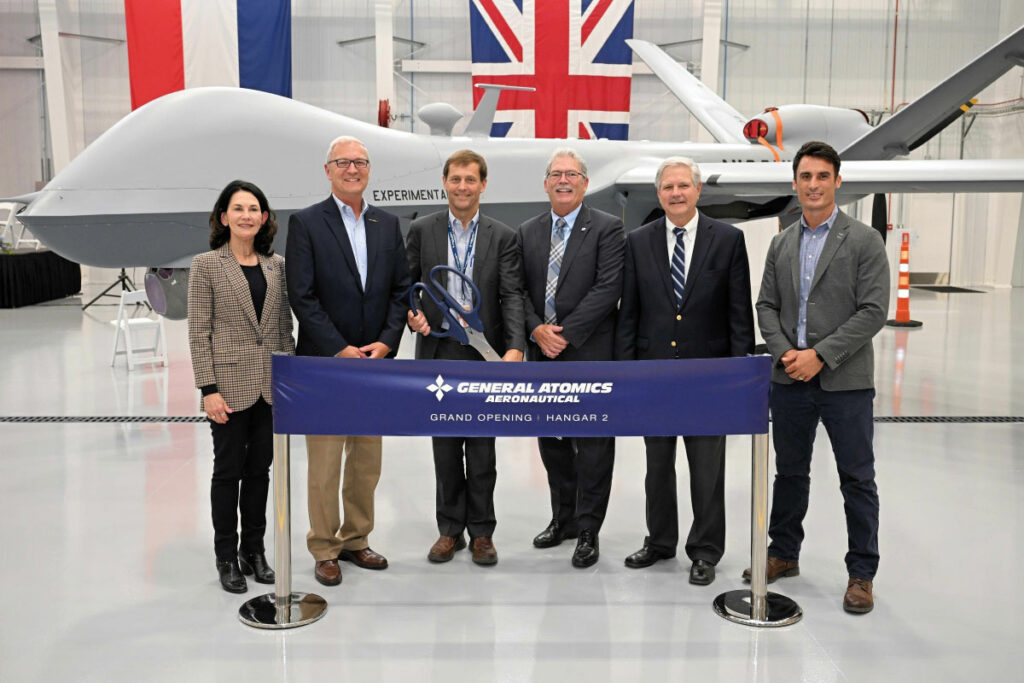 General Atomics Aeronautical Systems, Inc. (GA-ASI) has opened its newest hangar at the Grand Sky Unmanned Aircraft System (UAS) Business Park near Grand Forks, North Dakota.
The new hangar will be used for international crew training, aircraft storage, aircraft maintenance and will house two GA-ASI Certified Ground Control Stations (CGCSs) with room to add additional CGCS as required.
The grand opening event included a ribbon-cutting ceremony to commemorate the opening of the new hangar at the company's Flight Test and Training Center (FTTC).
"We're excited to open another permanent hangar at our Flight Test & Training Center in North Dakota," said GA-ASI CEO Linden Blue. "The new hangar represents our ongoing investment in test and training capabilities that provide our customers with a world-class facility to train aircrews in the operation of our aircraft."
The opening event also included remarks from U.S. Senators John Hoeven (R-ND) and Kevin Cramer (R-ND); Grand Forks Mayor Brandon Bochenski; North Dakota Lieutenant Governor Tammy Miller; and GA-ASI President David R. Alexander.
"This new hangar is part of General Atomics' growing footprint in North Dakota. It's only fitting that General Atomics, the premier private sector trainer of unmanned aircraft pilots, is dedicating this new facility here in Grand Forks, home of the premier school of aviation in the world. We welcome this new investment and the ongoing partnerships that are helping North Dakota lead the way in unmanned aircraft operations," said Senator Hoeven.
"General Atomics is a proven leader in unmanned aerial systems and a vital partner in North Dakota as we expand our UAS expertise," added Senator Cramer. "Today's grand opening celebrates the Flight Test & Training Center, which is essential in addressing the high demand for flight crew training and sensor system testing. Continued investment from General Atomics in Grand Forks illustrates the success of the UAS ecosystem North Dakota has created."
Military UAS manufacturers & suppliers Unmanned Aerial Systems for defense > >