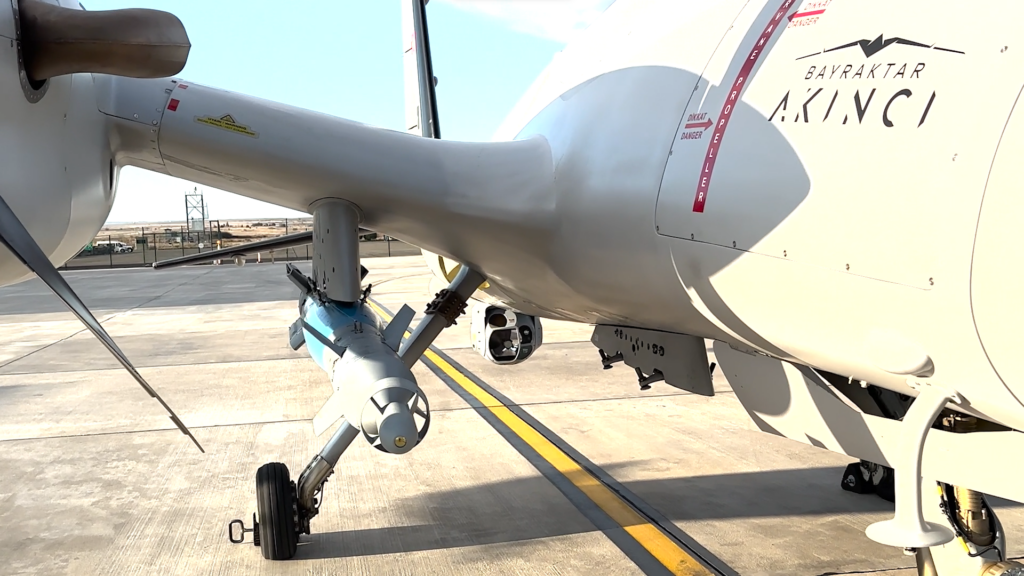 Baykar Technology has announced its unmanned combat aerial vehicle (UCAV) Bayraktar Akinci hit a target accurately during a recent test flight with an Aselsan laser guidance kit.
The laser guidance kit was integrated with a MK-82 bomb, also developed by Aselsan, and was used in the test firing. The kit is believed to be able to convert 227 kg (500 lbs) MK-82 and 2 ton MK-84 dumb bombs into cost-effective and highly reliable smart weapons. According to Baykar, it provides accuracy, delivery range, and reduced collateral damage, and after-release re-targeting capability against both stationary and moving targets.
The kit comprises a semi-active laser (SAL) seeker, a guidance section, a thermal battery, a canard control system and a rear wing. Baykar believes it reduces the number of munitions required to destroy a target and features accuracy, reliability and cost-effectiveness, previously unattainable with conventional weapons. According to Baykar, the UCAV Akinci can fly for 24 hours, has a service ceiling of 40,000 ft (12,192 meters), a 20 meter wingspan, and the capacity to carry a load of 1,350 kg.
Akinci will be equipped with locally made active electronically scanned array (AESA) radar and air-to-air missiles Gökdoğan and Bozdoğan, and will launch with several types of locally made ammo, such as standoff missiles (SOM). Most recently, the combat drone underwent another firing test with a new generation guidance kit, developed by the Turkish defense industry.
Find UAS manufacturers and suppliers of Unmanned Aerial Systems (UAS) technology and platforms, including RPAS, UCAVs & UAVs for defense applications.