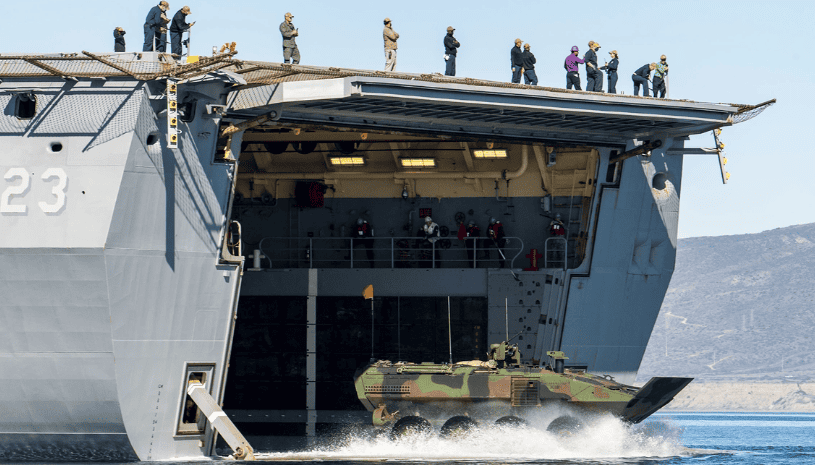 BAE Systems and Iveco Defence Vehicles (IDV) have introduced the Amphibious Combat Vehicle (ACV) at the FEINDEF International Defense and Security Exposition.
The ACV family of vehicles, developed and delivered by the strategic partnership between BAE Systems and IDV, supports the US Marine Corps (USMC) expeditionary mobility capability and is said to be the only truly amphibious combat vehicle in full-rate production today. The vehicle displayed at FEINDEF was the personnel variant (ACV-P), which is the base platform for the family of vehicles. 
"This is the first time the Amphibious Combat Vehicle has been shown outside the United States, and it is a point of pride that it is here in Spain, an important, long-term US and NATO ally," said Garrett Lacaillade, Vice President of Amphibious Programs at BAE Systems.
"Jointly BAE Systems and IDV are proud to present this critical next-generation amphibious capability that meets the mission needs and program requirements of the Infantería de Marina Española," added Nazario Bianchini, Head of Sales at IDV. "Together, we are ready to respond to any international customization request to ensure the optimal deployment of the amphibious vehicles within the Spanish and European defense system."
The amphibious platform was designed to grow and adapt to mission needs, allowing space for new capabilities as technology evolves such as reconnaissance, electronic warfare, anti-air, and Uncrewed Aircraft Systems integration. With its modular design, the ACV is believed to be ready to provide Marines around the world the flexibility to address additional mission roles and integrate future technologies.
The ACV-P is fully open-ocean capable and can carry 13 combat-loaded Marines, along with a crew of three, from ship to objective and back. The ACV Command and Control variant provides multiple workstations for Marines to maintain and manage situational awareness in the battlespace. The ACV recovery variant provides direct field support, maintenance, and recovery to the ACV family of vehicles. The ACV-30 also mounts a stabilized, medium caliber Remote Turret System manufactured by Kongsberg that provides the lethality and protection Marines need while leaving ample room for troop capacity and payload.
Find Amphibious Vehicle manufacturers for military and defense, including tracked assault amphibian vehicles >>