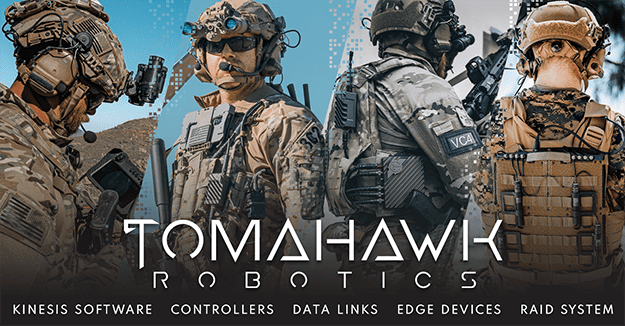 AeroVironment is set to acquire Tomahawk Robotics, a company specializing in AI-enabled robotic control systems.
The two companies entered into a definitive agreement under which AeroVironment will acquire 100% of Tomahawk Robotics equity for a total purchase price of $120 million to be paid in a mix of cash and stock.
The acquisition will enable deeper integration of both companies' technology, leading to enhanced interoperability and interconnectivity of unmanned systems through a singular platform with similar control features.
This will ultimately enable warfighters to operate various connected robotic solutions in the battlefield and share information between multiple domains with one common controller.
Tomahawk Robotics is the company behind the Kinesis Ecosystem, a tactical capability designed for the warfighter. At the centre is Kinesis, an AI-enhanced and open architecture common control system that integrates the network of unmanned expeditionary vehicles, sensors, and third-party software onto a single pane of glass. The Kinesis Ecosystem delivers targeted situational awareness and precision strike capabilities for the human-machine teams across the battlespace.
"Combining features of our Crysalis operating system with Tomahawk Robotics' AI-enhanced Kinesis platform means pairing the best common controller technology with the most ubiquitous unmanned systems on the market today," said AeroVironment's Senior Vice President of Unmanned Systems Trace Stevenson.
"Tomahawk Robotics' solutions will accelerate our adoption and implementation of AI and autonomy into AeroVironment platforms," continued Stevenson. "We're confident that the combined experience and expertise of our two teams will result in a variety of unmatched unmanned expeditionary vehicles that meet our customers' emerging needs and exacting standards."
"Our motto has always been 'warfighter first.' Everything we've designed or made has been optimized to better equip and prepare soldiers on the battlefield," said Tomahawk Robotics' CEO Brad Truesdell. "Joining AeroVironment means our solutions will have a broader reach and the opportunity to be optimized by not only AeroVironment's family of systems, but the broader robotics community, better enabling warfighters across the globe."
"The acquisition of Tomahawk Robotics will not only provide AeroVironment with strong new members of our team, but a quality brand and products that are widely respected in the industry. Tomahawk Robotics will become part of the small UAS (sUAS) business unit within AeroVironment's Unmanned Systems segment. We intend to retain all of their workforce and existing facilities in Florida," said AeroVironment's CEO and Chairman Wahid Nawabi. "We will support all existing Tomahawk Robotics customers and their products will remain platform agnostic to the market and within the industry. We also plan to introduce Tomahawk Robotics solutions to AeroVironment's growing network of more than 55 allied nations."
"Acquiring Tomahawk Robotics strengthens our value to our customers as we will be uniquely qualified to support multiple platforms and offer the best solution for their operational needs," continued Nawabi. "Tomahawk Robotics' products will enable AeroVironment's solutions to achieve an elevated Modular Open System Approach (MOSA) desired by our customers, and the opportunity to expand into new and adjacent markets for interconnected soldiers with a Common Operating Picture enabled by AI and autonomy."
Find manufacturers of Military Command & Control (C2) and suppliers of C2 equipment and technology for defense>>