In this article, Dantherm outlines the key qualities a heating solution must deliver in challenging environments such as military camps and field hospitals, and how the company's FH units meet these requirements.
---
From conflict areas and natural disaster zones, to providing much-needed shelter to refugees in times of crisis, military camps and field hospitals must be prepared for any situation, in any part of the world. The hottest deserts. The wettest marshland. The coldest mountains.
Concentrating on the cold, tents and portable buildings alone cannot offer the protection required when temperatures plummet and severe weather approaches. These harsh conditions can make an already dangerous situation even more hazardous, putting the health of people on-site and the reliability of equipment in serious jeopardy.
Among other unwelcome consequences, the extreme cold can: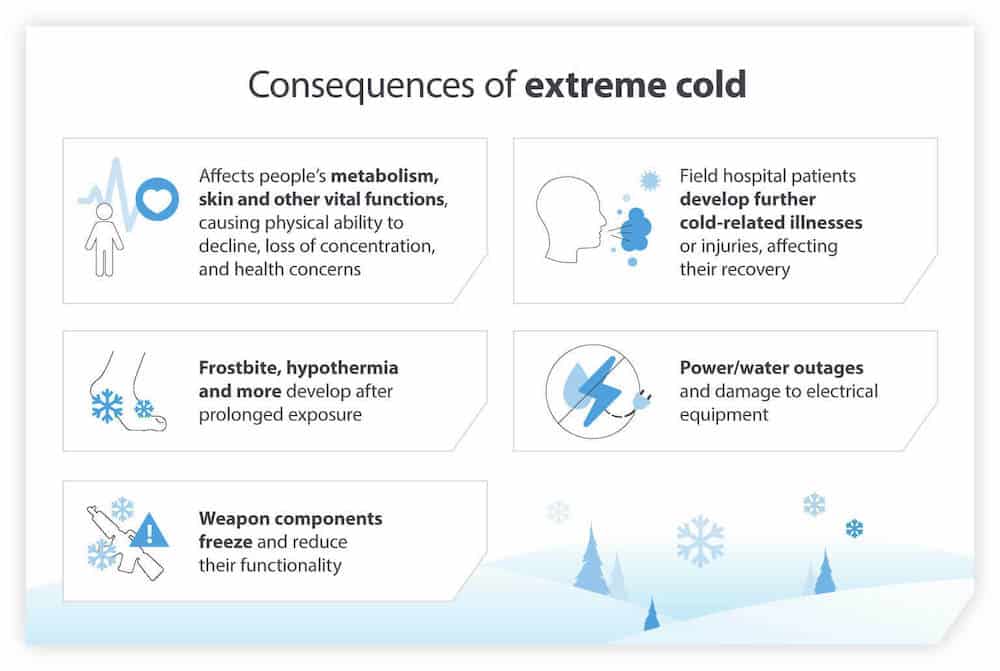 In addition, temporary camps and tents have unfortunately become the permanent residence of many refugees across Europe. In the winter, freezing conditions can be life-threatening to these already vulnerable families, and can affect people in all corners of the globe.
Even the Sahara Desert, where temperatures can reach 38ºC during the day, can drop to -4ºC overnight as heat rapidly escapes the dry atmosphere. In the coldest parts of Eastern Europe, temperatures can descend even further into negative double-digits.
Finding an effective heating solution
The threat of extreme cold temperatures in these already precarious settings demands a robust, reliable heating system – one that keeps people, animals, equipment and more protected from the elements.
Dantherm's FH 20 and FH 40 units are perfectly suited for these scenarios. Based on our extensive knowledge of climate control solutions, and our experience working with military camps and field hospitals globally, these units are specially designed to deliver uninterrupted heating in temperatures as low as -40ºC.
Both units utilize indirect-fired heating technology, along with industry-leading warm-up capabilities. This ensures that whenever temperatures take a turn for the worse, camps can depend on these units to keep their climate comfortable at all times.
What is the difference between indirect and direct-fired heating?
Indirect-fired heaters are ideal for military and field hospital tents because of the often limited ventilation and crowded nature of these environments.
Just like a home oil or gas-burning furnace with a chimney, the flame is contained in a burn chamber, which heats a heat exchanger. Cool air passes over the heat exchanger, heating the air in the tent. Because the air never comes into contact with a flame – which would be the case with direct-fired heating – the air is 100% clean, dry and safe. No fumes. No combustion.
Furthermore, no carbon dioxide is released, meaning these units can operate in tightly sealed spaces. Conversely, direct-fired heating units require permanent ventilation to the outside environment. Our FH units are ideal for open air operation with ducted supply and return air as well as internal installations.
Although the benefits of indirect-fired heating are often offset by the drawbacks of higher costs and lower efficiency, the FH 20 and 40's innovative 2-stage burning principle reduces energy and fuel consumption, and therefore actively reduces costs for users.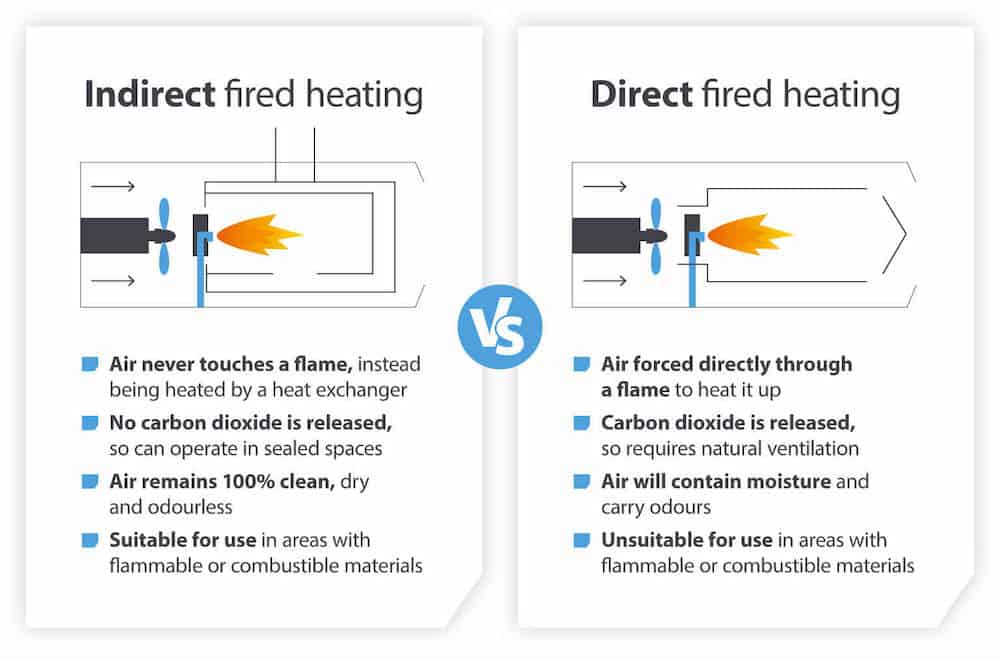 How FH units fulfil the needs of military camps and field hospitals
Guided by our decades of experience developing climate control solutions, and through our close collaboration with the armed forces of NATO countries, the Dantherm FH 20 and 40 are built especially for these unique environments.
Dependable in all weather
As we highlighted earlier, military camps and field hospitals need to perform in all settings, no matter how challenging. Our units are proven to be completely operational as low as -40ºC, meaning even the coldest climates will not stifle their performance.
Instead, personnel can continue to work in complete comfort at all times, while equipment and vehicles, including rescue helicopters, can be stored in optimal conditions so they are always ready when you need them. No delays or cold-related malfunctions. Just less wear-and-tear and quicker response times.
Instant heat delivery
Our units deliver industry-leading heat-up capabilities. This means that personnel, refugees and patients at military camps and field hospitals are not waiting hours for temperatures to rise when temperatures take a sharp drop.
Either 20kW or 40kW (depending on which unit you use) of heat output is achieved in a matter of minutes, limiting the damage that cold climates can cause.
Plus, these units' efficient multi-liquid burner accepts almost all diesel fuels. This makes it accessible to practically all users, while this efficient technology means that this instantaneous heat is provided at reduced costs.
Easy to operate and maintain
Snow, ice, sleet – these and more are consistent threats to military camps and field hospitals during the winter. If these cause a heating solution to shut down, the consequences may be dramatic and sudden, particularly for patients in mobile hospitals.
Our FH units overcome this by being incredibly quick and easy to set up, with no technical expertise required. It only requires one person, with no tools necessary. Maintenance is also simple, and is not required often due to the exceptional reliability of the units.
Both units are made from incredibly robust materials, guaranteeing that performance is maintained and components stay protected during the worst weather.
Straightforward transportation and storage
Mobility is crucial for both military camps and field hospitals. Personnel need the freedom to move location, uninhibited by equipment. A cumbersome heating solution can waste valuable time when that is already in short supply.
Our FH units ensure mobility is never an issue with several features that make them easy to transport from one place to another, including:
Integrated chimney storage for safe transport
Integrated handles for manual lifting
Wheels and forklift pockets
Quick set-up times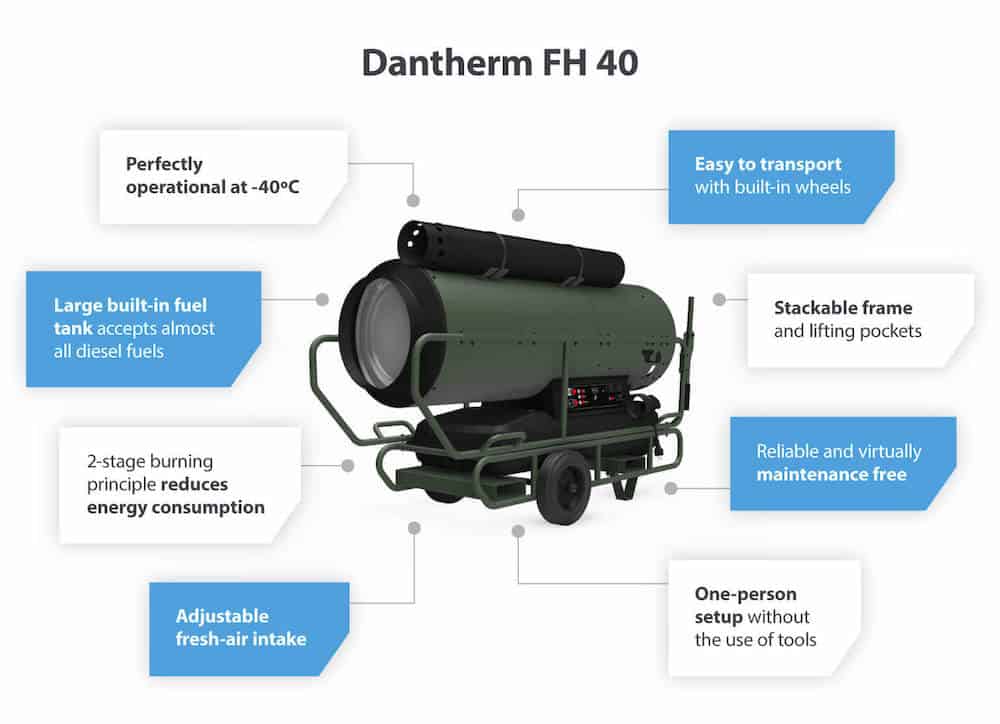 The Dantherm difference
In addition to the above benefits, our FH 20 and FH 40 units benefit from the expertise and experience behind the entire Dantherm brand. All of our solutions are designed and crafted on our four key pillars: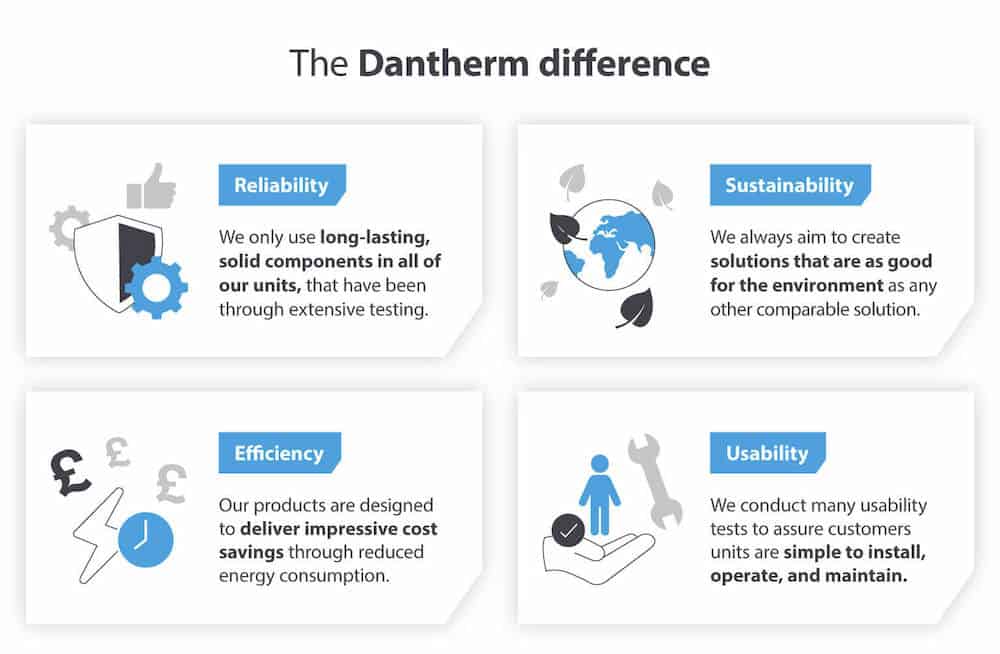 Dantherm has been in this business since 1954, and is now firmly established as a European leader in mobile fuel-fired heating systems such as our FH units.
Our solutions have supported military and humanitarian field camps worldwide for over 35 years. We understand the unique challenges and environments that these groups face better than anyone, and we work in tandem with both system integrators and our customers to develop bespoke, site-specific solutions.
Whatever your requirements, we configure our units to accommodate them. Even on the coldest winter nights, you can rely on our products to keep you as comfortable as possible.
If you are interested in learning more about the FH 20 and FH 40, or our wide range of climate control solutions for humanitarian and defense organizations, get in touch with us today.